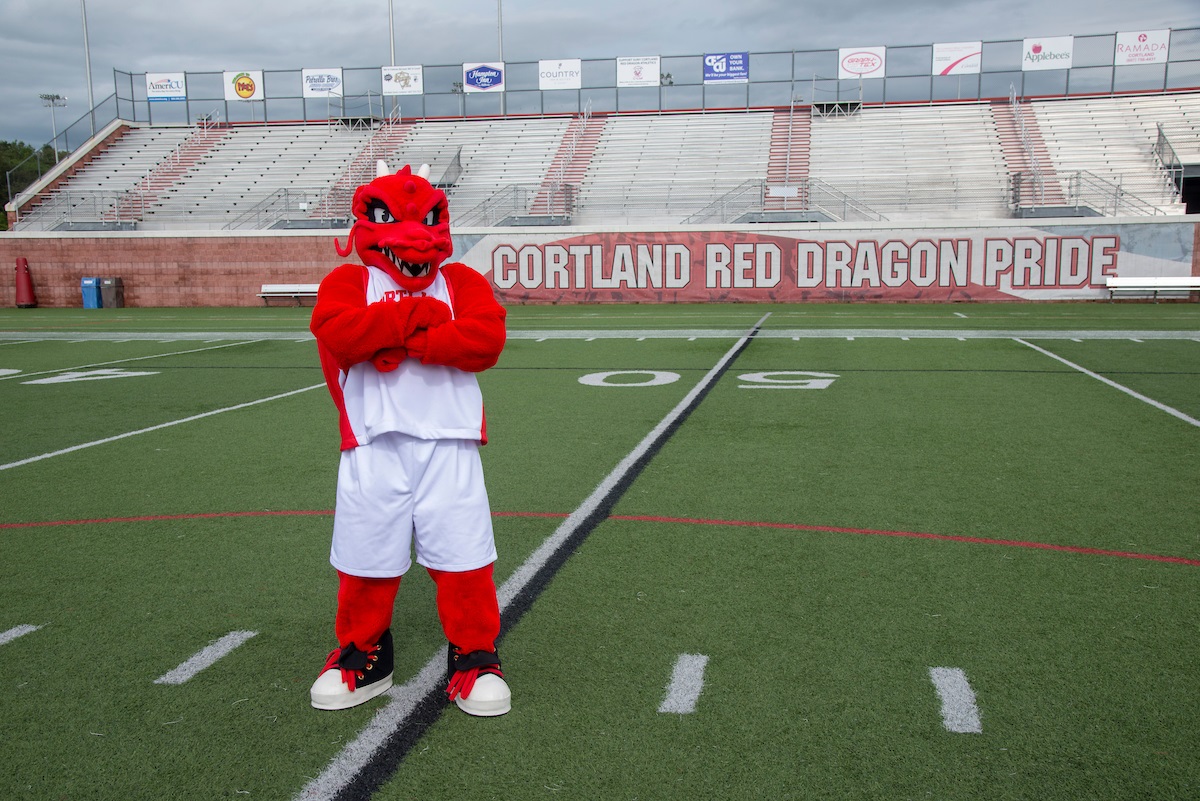 03/14/2023

Red Dragon nation, Blaze needs your vote. And he needs it now.
Mascot Madness is back. Once again, the 64-campus SUNY system is hosting a competition to determine its most popular college mascot.
Online voting in the first round of the tournament-style mascot battle, set up in brackets like those used in the NCAA basketball championships, was last week during spring break and Blaze made it through. The second round began Monday, with Cortland's Red Dragon pitted against University at Albany's purple great dane.
Students, faculty, staff, family, friends and strangers on the street can vote for Blaze on the official website. Second-round voting ends at 4 p.m. Wednesday, March 22.
SUNY Cortland voters are encouraged to cast ballots early and often, although they are limited to one vote per day. In order for your vote to count, you simply have to verify it via an active email address.
If everybody's favorite flame-throwing, game-winning Red Dragon outs Albany's mascot in the dog house in the second round, Blaze will advance through the following schedule:
Round 3 — March 24-28
Semifinals — March 29-31
Finals — April 4-6
All voting rounds begin at noon and end at 4 p.m.
To help people get to know the mascots, SUNY asked each a series of questions. The responses of Cortland's Red Dragon are below:
1) Who are you and where are you from?
I am Blaze, Red Dragon defender of the mighty SUNY Cortland realm and lord of all intelligent, mythical reptiles. Feel free to tremble.
2) How long have you been doing this mascot thing?
Since 1933. If you've seen me move on the sidelines or cavort about campus, it's probably hard to believe that I'm 90 years old. Guess that's what happens when you live on one of the nation's healthiest and most active campuses!
3) What is your offseason training composed of?
I do it all. Weights, swimming, yoga, rock wall, you name it. And SUNY Cortland has amazing facilities for whatever training I want. I mean, have you seen the Student Life Center? So many activities!
4) What is your favorite unique course to take at your school?
The Psychology of Pseudoscience. It's intended to teach critical thinking by examining why people believe in things like Bigfoot, ghosts and the Loch Ness Monster. I love to watch those posers get put in their place. Everyone knows I'm the only supernatural entity worth believing in!
5) What New York landmark would you love to see be the host of your school's next big game?
Wow, that's tough. Once you play for the Cortaca Jug in MetLife Stadium and Yankee Stadium, you kinda feel like you've done it all. Maybe we'll stay local until the Buffalo Bills' new stadium opens.
6) Which of your school's alumni would be the best sidekick to your mascot duties?
UFC bantamweight champion Aljamain "Funkmaster" Sterling '12. He was a two-time All-American wrestler for Cortland and is a black belt in Brazilian Jiu-Jitsu. Talk about moves!
7) One song to make an entrance to – what is it (and why)?
"We are the Champions" by Queen. I think it's self-explanatory.
---