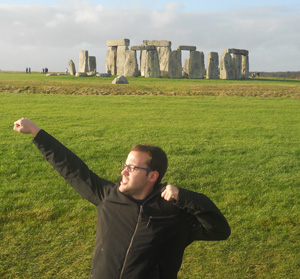 03/26/2012

Tyler Freeman envisions the beaming Eiffel Tower looming off in the distance as his fellow SUNY Cortland students walk to class. The senior sport management major also can picture classmates interning on the sandy coastline of Belize.
Freeman, the student coordinator of Cortland Study Abroad Promoters (CSAP), describes his experiences abroad as "amazing and eye-opening."
Through the wide array of SUNY study abroad programs, SUNY Cortland students have the opportunity to travel overseas and immerse themselves in a new culture, all while earning credit through classes or internships.
During his time abroad as a senior, Freeman attended classes at London Metropolitan University in England, where class was just a short subway or "tube," ride away.
"Studying abroad at London Metropolitan was the best thing I've done since coming to Cortland," said Freeman, who also enjoys intramural soccer. As a youth in Poughkeepsie, N.Y., he didn't travel abroad but his family hosted several English soccer coaches. "Nothing compares to being in another country."
Tyler Freeman, shown in the third row fourth from the left,explores the streets of London with companions enrolled in study abroad programs. Above left, Freeman is shown visiting the ruins at Stonehenge.

During his overseas adventure in England, Freeman struck a pose with Stonehenge as the backdrop, visited London's Big Ben and the Tower Bridge over the River Thames and explored England's bustling capital streets with fellow study abroad students.
"There was always something to do," said Freeman, who helped fundraise for the 2010 and 2011 Lose the Shoes soccer tournament with the Sport Management Club at the College. "I have made over 40 friends from across the world and have stayed in contact with them. The English breakfasts are gigantic, night clubs are open until 7 a.m., and football (soccer) is religion."
Freeman commonly hears students say they think that studying abroad may be too expensive or they will get behind in their course-work.
"There are lots of different programs," said Freeman, who is gaining internship credit for his CSAP role. "Students can get local or regional scholarships to help out with costs. Money shouldn't inhibit you."
"Studying abroad can be affordable," added Hugh Anderson, study abroad advisor in the International Programs Office at SUNY Cortland. "Programs like China and Costa Rica can even be less expensive than a semester here at Cortland, which really makes this an option."
According to Freeman, students need not worry about falling behind in school, as the overseas university and internship credit will transfer back to the College and apply toward graduation credit.
CSAP was developed five years ago to encourage returning study abroad students to share their experiences and promote overseas scholarship to prospective participants.
"Students like Tyler that are promoting studying abroad have greatly increased the number of students going overseas," Anderson said. "It really gets them to start dreaming of the possibility of studying abroad."
"People don't think they ever have time to study abroad, but there always is time," Freeman said.
SUNY Cortland offers 24 different study abroad programs which all vary in place, cost, time of year and length of time. There are more than 600 programs throughout the SUNY system that are available to all SUNY students.
Freeman encourages professors and resident assistants to schedule a CSAP presentation. Speakers give a 10 to 15-minute presentation about their first-hand accounts of being a student overseas and general information about the different programs offered.
For more information or to schedule a speaker, contact Freeman.
---