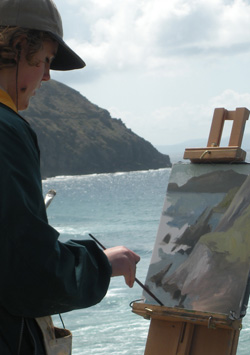 10/24/2011

An exhibition of oil paintings, drawings, photographs and prints depicting Ireland's rugged beauty, by 23 participants in SUNY Cortland's most recent Dingle Summer Art Program, will open on Saturday, Nov. 5, in downtown Cortland.
The reception that opens "The Irish Landscape" will take place at 7 p.m. in the Beard Building Gallery at Main Street SUNY Cortland, located at 9 Main St. Most of the 23 artists will be on hand to discuss their work.
Presented by the SUNY Cortland student organization Art Exhibition Association, the College's Institute for Civic Engagement and the Cortland Downtown Partnership, the event and exhibition are free and open to the public.
"The Irish Landscape" will remain on display until Jan. 30, 2012. The gallery is open to visitors between 10 a.m. and 4 p.m. Monday through Friday.
All work on exhibit was produced during the newly expanded program taught by SUNY Cortland Professor Emeritus of Art and Art History George Dugan and Patricia Hunsinger.
The artists represented in "The Irish Landscape" were students from many SUNY campuses as well as working art professionals from throughout the state who enrolled in the six-credit graduate and undergraduate level course offered last summer in the busy fishing port community of Dingle, County Kerry. All work was created outdoors on the Dingle peninsula.
Madeleine Bialke, a student from SUNY Plattsburgh, is shown painting a landscape along the coast of Ireland during her Dingle Summer Art Program experience last summer.
"The fickle changes in the weather, shifting light and the ever-present wind both challenge and reward" the artist, Dugan said.
"The town of Dingle, with its captivating and brightly painted shops, and the Dingle peninsula, with its dramatic, ragged coastline, white sandy beaches, lush green pastures and the ever-present blue mountains, offer the artist the most stunning and picturesque subject manner."
The students also immersed themselves in the culture of Ireland through selected readings, attendance at social events and lectures by visiting artists. Each participant completed a finished 'master work' painting with a final portfolio.
Offered every summer, the program in its 10th year is open to budding as well as accomplished artists. In 2012, two four-week sessions will be offered. For more information, contact SUNY Cortland's International Programs Office at (607) 753-2209 or online at www.cortland.edu/studyabroad.
The Beard Building Gallery in historic downtown Cortland is a collaboration between SUNY Cortland, the Cultural Council of Cortland County and the Cortland Downtown Partnership.
---