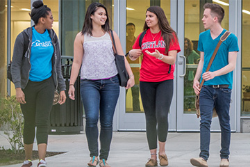 03/21/2017

Hundreds of future Red Dragons will make their way to SUNY Cortland on Saturday, April 1, for the College's Spring Open House, an event that welcomes accepted students to campus.
More than 700 students and their families will spend the day learning more about the College's academic programs, touring campus and speaking with professors, staff members and current students.
"Spring Open House is the perfect opportunity for accepted students to see all of the great things that are in store for them at SUNY Cortland," said Mark Yacavone '94, the College's assistant vice president for enrollment management. "We want them to know that they'll succeed here academically and socially. The hope is that the experience confirms one of the best decisions that they'll ever make."
Visitors are asked to register for the event, but those who have not pre-registered are welcome to attend. High school underclassmen who have not yet applied may attend as well. All students will receive one free meal voucher to use at a campus dining hall.
The College's Spring Open House is meant to be a fun, fulfilling
day for accepted students, one that helps make their college
decision easier.
More than 2,000 people are expected to visit campus. In the past, approximately 70 percent of prospective first-year students who came to Open House decided to attend the College and 90 percent of transfer applicants enrolled.
The day starts at 9:45 a.m. with remarks in Park Center Alumni Arena, followed by an Academic Programs, Student Services and Clubs Fair from 10:15 a.m. to 12:30 p.m. in Corey Gymnasium and Poolside Lobby. Faculty, staff members and students will be available to chat with visitors and answer questions.
From 10:30 a.m. to 12:45 p.m., students and families are encouraged to attend special 45-minute presentations taking place throughout Park Center. More than 20 topics range from study abroad opportunities to financial aid to the College's Adirondack Trail Blazers program.
Special academic program presentations also take place throughout the morning and early afternoon. Visitors can learn more about the College's Honors Program and special advisement opportunities for students interested in law, healthcare and physical therapy.
Guided tours of the campus and residence halls will run 11 a.m. to 1:30 p.m. from Park Center Alumni Arena.
A full schedule of the day's events is available online.
Parking for Open House visitors will be provided in the College's Route 281 parking lot, which features shuttle bus service. Visitors using a GPS device should plug in 1 Folmer Drive, Cortland, NY 13045.
Follow @SUNYCortland_Admissions on Instagram, @CortlandSUNY on Twitter and use #CortlandBound on social media to stay up to speed with the event.
---