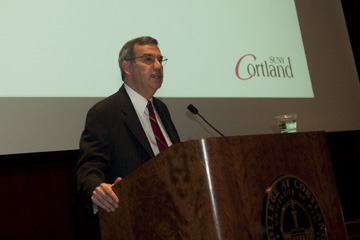 01/21/2016

SUNY Cortland President Erik J. Bitterbaum opened the spring semester Thursday by noting that the College's graduation rate appears to be the highest it's ever been. That statistic, combined with personal stories and testimonials, underscored the importance of student success as a major theme of his traditional opening address.
Bitterbaum spoke for more than an hour and covered a range of topics during his remarks to faculty and staff members. Topics included finances, SUNY system-wide goals and campus-wide updates, with the majority of his talk centered on student success — especially as it relates to retention and establishing a campus climate that embraces diversity.
"When students come to Cortland, they're doing so at a really unique turning point in their lives," President Bitterbaum said. "Their whole lives are in front of them. We provide an environment where they're going to learn and flourish and find their life's calling … What you do is so critical."
Emails from students to faculty members about transformative classroom lessons and career success after college served as the president's proof. So did the data on graduation and diversity he shared with the audience.
The College's six-year graduation rate for the class that entered in 2009 was 72.8 percent, an institutional high for at least the past 10 years and far better than the 56 percent national average for four-year comprehensive colleges.
President Bitterbaum also noted progress in diversity, pointing out that when he arrived at SUNY Cortland in 2003, just 4 percent of the College's student profile was non-white. Today, that number is 21 percent.
He encouraged the audience to continue improving student retention and maintaining a welcoming campus environment. He shared the "big six" college experiences suggested by a 2015 Gallup study, discussed the importance of early academic intervention and "intrusive advising," and recommended attending the College's Summer Institute for Infusing Diversity.
"How can we make Cortland more united? How can we get to know each other outside of our races?" President Bitterbaum asked. "It's a unique challenge."
Navigating uncertain financial waters also will be a challenge, especially with a new collective bargaining agreement on the horizon and the future of a rational tuition policy in question, he said. The College will continue considering alternate ways to add to its reserves.
"There is a new normal in higher education finance," President Bitterbaum said. "Every state is giving less."
More encouraging was the recent announcement of a new Investment and Performance Fund for SUNY, which awarded the College two major grants: $1 million to expand a highly successful online tutoring network and $240,000 to work with two nearby community colleges to make it easier for students to turn an associate's degree into a bachelor's degree.
Both of those awards should help with retention as well as an ambitious system-wide goal announced by Chancellor Nancy L. Zimpher: to award 150,000 SUNY degrees annually by 2020 — up from 93,000 currently. President Bitterbaum said SUNY Cortland's contribution to that effort will likely depend on the ability to award more "micro" professional credentials through online programs.
"(Online education) is an evolving approach, but it's here to stay," President Bitterbaum said.
He also touched on several other topics:
Faculty excellence: Sponsored funding brings benefits for the entire campus, not only individual recipients, the president said. He recognized six grant awards earned during the fall semester that will benefit STEM education, understanding of Belizean art, military officers studying to become teachers, the College's Sensory Integration Motor Sensory Lab, understanding of a renowned Argentine-Mexican philosopher and sustainable building practices.
Campus safety: In light of tragedies affecting college campuses across the country, President Bitterbaum encouraged faculty and staff members to contact the College's University Police Department, behavioral assessment committee and the Title IX coordinator if they sense a safety threat. "It is all of our responsibilities to be alert and get our students help," he said. "The most important thing we can do as a community is keep ourselves safe."
Sustainability efforts: President Bitterbaum pointed out that environmental awareness is weaved into the curriculum of 15 different academic departments across 31 sustainability courses. He also highlighted many different "green" campus projects — the local sauce produced by Auxiliary Services Corporation, a cost- and waste-saving project led by Residence Life and Housing and Zipcar availability on campus — as well as awards and recognition that came in 2015.
Campus construction: The College's electrical infrastructure upgrade will continue during the spring semester in addition to a renovation of DeGroat Hall. A renovation of Whitaker Hall also is planned.
A panel presentation titled "Cultivating Inclusive Leadership: Frameworks and Practices for SUNY Cortland" followed the president's talk and emphasized the importance of a more culturally aware campus environment.
That panel, moderated by Chief Diversity Officer Noelle Chaddock, included: Seth Asumah, a SUNY distinguished teaching professor of Africana studies and political science; Alexis Blavos, an assistant professor of health; Sierra DeGale, a kinesiology: exercise science major from Brooklyn, N.Y.; Ricardo Destinvil, a political science major from Brooklyn, N.Y.; Lewis Rosengarten, director of the Educational Opportunity Program; Dennis Weng, an assistant professor of political science; and Vicki Wilkins, a professor of recreation, parks and leisure studies.
In wrapping up his remarks, President Bitterbaum shared the story of a female student who had a son with a chronic heart condition. Lessons she learned in a health psychology course taught the student to look at her son's illness differently and change her behavior to make his life better. It resulted in emotional, social and physical benefits — an illustration that theoretical material in the classroom could be applied to life.
"Education, especially a Cortland education, has potential," he said. "And that's what it is. It's always about potential to enrich and educate students."
---