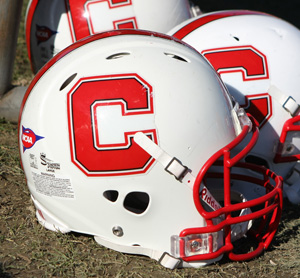 10/18/2012

With less than three weeks to go until the SUNY Cortland football team goes for its third straight Cortaca Jug win, the demand for Stadium Complex seats is building.
The College hosts the 54th annual rivalry game between SUNY Cortland and Ithaca College, which kicks off at noon on Saturday, Nov. 10.
Here's a complete rundown of ticket information:
SUNY CORTLAND STUDENTS, FACULTY AND STAFF
Current SUNY Cortland students who have paid the athletic fee; faculty and staff members; and Auxiliary Services Corporation (ASC) employees with a valid College ID are allowed one free ticket, which can be picked up during the following dates and times in Corey Union, Room 406:
Sunday, Oct. 21: Noon to 4 p.m.
Monday, Oct. 22: 8:30 a.m. to 4 p.m. and 5 p.m. to 8 p.m.
Tuesday, Oct. 23: 8:30 a.m. to 4 p.m. and 5 p.m. to 8 p.m.
Wednesday, Oct. 24: 8:30 a.m. to 4 p.m. and 5 p.m. to 8 p.m.
Lost or stolen tickets cannot be re-issued. A ticket is general admission for first-come, first-served seating in the general admission section. No re-entry is allowed. A ticket is no longer valid once an attendee leaves the stadium.
All ticket holders entering the Stadium Complex should expect to be patted down. Diaper bags or totes holding essential medicines, etc., are subject to inspection.
The following items are prohibited: alcoholic beverages; food; artificial noisemakers; backpacks, bags, carryalls and totes; banners, flags or signs attached to sticks or poles; bottles, cans, containers, coolers; pets of any kind; tobacco products; umbrellas; and weapons of any kind.
SUNY CORTLAND ALUMNI
Information on alumni events and tickets associated with the Cortaca Jug game is available on the SUNY Cortland Alumni Association Cortaca Jug page.
GENERAL TICKET SALES
Any remaining tickets available after the student, faculty and staff pickup will be sold online Sunday, Oct. 28, beginning at noon. The website for that sale will be posted at a later date.
OTHER INFORMATION
The game will be televised live on Time Warner Cable Sports in the Cortland and Ithaca areas. More details will be released later.
Time Warner's broadcast also will be available as an Internet webcast.
The game will be broadcast live on both WXHC (101.5 FM) in Cortland and Central New York and WICB (91.7 FM) in Ithaca. Both of those radio broadcasts will be simulcast on the Internet.
---