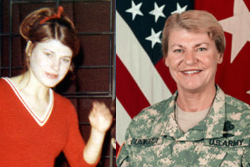 03/22/2016

Retired Gen. Ann Dunwoody '75, the first woman four-star general in U.S. Army history, wasn't bound by limitations as she broke multiple glass ceilings to reach the highest rank ever achieved by a female officer.
So it is only fitting that SUNY Cortland streams live coverage of Dunwoody's April 4 campus presentation over the Internet, making it available to all members of the campus community, regardless of geographic limitations.
Dunwoody, the author of a recent book on leadership strategies, will hold a public presentation, reception and book signing in the David J. Vittor '67 Lecture Hall, located in Sperry Center, Room 105, at 7 p.m. on Monday, April 4. Anyone interested in attending Dunwoody's presentation should fill out the online reservation form by March 31.
People who can't be there in person, but would like to hear the general's her insights into leading, managing and making history, can watch it live by going to this link.
Dunwoody will visit campus Monday, April 4, and Tuesday, April 5 as an executive-in-residence. She will be a guest lecturer in three classes in addition to her public presentation.
Dunwoody's book, A Higher Standard, is on sale in the College Bookstore now. It chronicles her time as a SUNY Cortland physical education major, competing in Red Dragon gymnastics and tennis, through her unprecedented rise through the Army's ranks. By the time she retired as head of the Army's Materiel Command in 2012, she was responsible for 69,000 military and civilian employees, a $60 billion budget and locations spread across 55 countries.
Woven into Dunwoody's book are lessons in leadership and management applicable to any industry or endeavor. With a foreword by Facebook Chief Operating Officer Sheryl Sandberg, another pioneering woman executive, A Higher Standard champions accountability, diversity, endurance and integrity.
"The courage and determination Ann needed to break the military's 'brass ceiling' and reach a rank no woman had ever attained before are we strive to cultivate in all SUNY Cortland students," College President Erik J. Bitterbaum said. "Her journey is inspirational, and we appreciate her willingness to share the lessons learned along the way."
Dunwoody was granted an honorary doctoral degree by SUNY and was a SUNY Cortland Commencement speaker in 2009. She has received several national honors, including the NCAA's top award, the International Tennis Association's lifetime achievement award and the French National Order of Merit. SUNY Cortland also has recognized her with the College's Distinguished Alumni Award, the highest honor for its graduates, and induction in the C-Club Hall of Fame.
---