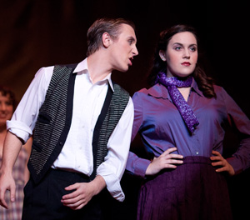 04/02/2013

The long hours of practice, physical conditioning and playbook memorization have concluded, and the stage is set for two SUNY Cortland performing arts champions to entertain the crowd one last time.
Musical theatre majors Timothy and Annali Alexander Fuchs will take to the Brown Auditorium stage for the final time on Sunday, April 14 in "Once Upon a Mattress." The play is an adaptation of the fairytale The Princess and the Pea.
Together, the dynamic duo has proven performing arts majors play a major part in the health, wellness and athletic-minded culture on campus.
"You have to be really fit and there's conditioning that goes into it, technique and training," said Annali.
The Alexander Fuchs are often mistaken for twins because they are both seniors.
"People always think I'm older, but Tim is older," Annali said of the two-year age difference. The President's List and Dean's list entertainer graduated a year early from Dryden High School, putting her in the class of 2009 with her brother.
There are only two of them, but both have proven to be triple threats in singing, dancing and acting. They come from a family with a passion for music. Thomas Fuchs '83 and Melani Alexander Fuchs '84, their parents, met at the College 30 years ago as physical education majors. Both serve as teachers today.
Thomas Fuchs is a professor in the College's Physical Education Department.
"It's not weird at all. It's great," said Annali of having her father on campus. The siblings have performed with him in numerous productions.
Melani Alexander Fuchs works as a movement specialist at the Elizabeth Ann Clune Montessori School of Ithaca (EACMSI). She is an artist and musician.
"You think we would follow that kind of track," Timothy said of a possible career in physical education. "But we didn't because our parents are musical and so supportive of anything we do."
Timothy and Annali begin their career in theatre while attending EACMSI and performing every year in the school's annual musicals, which their mother co-directed and choreographed.
Cortland was always on the list of colleges to which they wanted to apply. Timothy auditioned and was accepted at Syracuse University, but the tuition was significantly more than Cortland's.
Ultimately, the pair chose to attend SUNY Cortland because of the high quality of student life on campus and in the community, supportive faculty members, central location and affordable cost.
"I have always felt safe and at home here even though we live 20 minutes away," Timothy said. "It's been really nice here and I have never had any problems."
Thomas and Melani Alexander Fuchs were pleased Timothy and Annali decided to follow in their footsteps and become Red Dragons.
"It's fun to see our son and daughter have an excellent experience at our alma mater," Thomas said.
The faculty in the musical theatre program is like a second family to the pair. Their professors create an individualized learning atmosphere, both said. To Annali, this demonstrates how a student is more than just a number or face at Cortland.
Born two years apart, siblings Annali and Timothy Alexander Fuchs often shared the musical theatre stage during their four years at SUNY Cortland. They are shown here and above performing in "Pal Joey."
"They care, and their whole point is to make every single student the best they can be," she said.
Performing Arts Department faculty members Kevin and Cindy Halpin were significant contributors to the children's theatrical career preparation, both agreed. They took dance classes with the Halpins while in high school.
"As a faculty member, I am proud to say the department is providing a meaningful and significant contribution to the lives of my son and daughter," Thomas said.
And since making the transition to Cortland, the siblings have seen continuous improvement in their professional development.
"Since freshman year I have noticed I've gotten some good feedback at auditions, and now that I am a senior I'm actually getting called in for Broadway shows, not just going to the audition," Timothy said. "We have gotten the basic things we need to go out and do our profession."
In "Once Upon a Mattress," Timothy wrote a new dance arrangement for the big production number, "Spanish Panic."
Timothy's dedication to past productions earned him the Performing Arts Department Adams-Hill Award, a stipend presented to a graduating senior who has made considerable contributions within the program.
Annali, for her part, struggled as a freshman with a difficult classical dance movement called a fouetté. She has since accomplished it.
"We are really walking out of here with an amazing support system, and that's what every school should give its students," she said.
Free time is a rarity for the well-rounded students, but when they have time to relax they make the most of it on the family farm in Freeville, N.Y.
After graduation, the pair would like to take their talents to the stage in New York City.
Fans of the duo warn people not to be surprised, when watching the Tony Awards years down the road, if the winner for Best Performance thanks Cortland in his or her acceptance speech.
"What we take from Cortland is that you can't ever forget where you have been, otherwise how are you going to know where you're going?" Annali said.
Fans of the brother and sister can view their
interview
and
performance
which aired on April 4 on NewsChannel 9/WSYR-TV's "Bridge Street."
When the final scene of "Once Upon a Mattress" is finished, the stage curtain will close and their undergraduate theatre career will come to an end.
Both agree the feeling will be bittersweet, but they realize that soon another curtain will open to reveal the next scene in the production of their postgraduate lives.
The play will be performed in Old Main Brown Auditorium Friday, April 5, to Sunday, April 7, and Friday, April 12, to Sunday, April 14, with 8 p.m. curtain time on Fridays and Saturdays and Sunday matinees beginning at 2 p.m.
Admission to "Once Upon a Mattress" is $18 for the general public, $15 for seniors and SUNY staff, and $8 for all students and children. Tickets may be purchased at Jodi's Hallmark shop on Main Street, Cortland, or at the door of Brown Auditorium immediately prior to each performance. "Once Upon a Mattress" is recommended for all audiences.
For more information about the show, visit the Performing Arts Department Web page at cortland.edu/departments/performing-arts/ or call 607-753-2811.
---