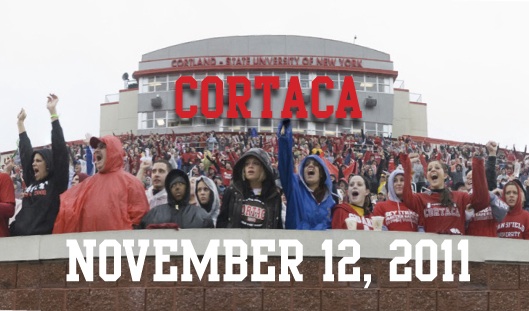 10/25/2011

Tickets to the 2011 Cortaca Jug football game at Ithaca College will go on sale exclusively for SUNY Cortland students, faculty and staff next week, on Tuesday, Nov. 1, and Wednesday, Nov. 2.
After that, starting on Thursday, Nov. 3, any remaining tickets will be made available to the general public.
The Cortaca game, described by Sports Illustrated as "the biggest little game in the nation," will start at noon on Saturday, Nov. 12, at Ithaca College's Butterfield Stadium. This annual Division III showdown between rivals SUNY Cortland and Ithaca College for possession of the coveted Cortaca Jug has been a tradition for more than half a century, and typically sells out.
No tickets will be sold on the day of the game, and only ticket holders will be allowed inside Butterfield Stadium for the event. Simply showing College identification will not get anyone into the stadium. Advance ticket purchase is therefore critical for anyone wishing to attend.
Ticket sales for students, staff and faculty will be from 5 to 10 p.m. in the hallway outside the Corey Union Function Room on Nov. 1 and Nov. 2, as long as the supply of tickets lasts.
All students, staff and faculty are eligible to buy one, and only one, ticket. A SUNY Cortland ID is required for each purchase.
Tickets cost $8, and payment must be made by cash only. All seating is general admission.
The supply of tickets provided by Ithaca College is limited, and there is no guarantee that all students will be able to purchase tickets. If there are tickets remaining after being made available exclusively to the SUNY Cortland campus community, they will go on sale to the public on Nov. 3, from 8 a.m. until 4 p.m. in Corey Union, Room 406.
Sales of tickets during this time will be limited to two tickets per person.
More information about the 53rd Cortaca Jug football game can be found on Facebook.
Alumni can find information on the College's Cortaca ticket lottery elsewhere on the Cortaca Alumni Page of the SUNY Cortland website.
---