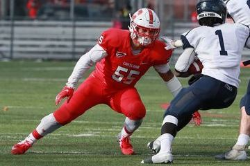 11/16/2018

The heroism of SUNY Cortland senior Kyle Richard has been recognized by yet another national organization.
Richard, who was shot twice after breaking up a sexual assault in progress during the summer of 2017 and returned to captain Cortland's football team the past two seasons, was nominated for the Capital One Orange Bowl-Football Writers Association of America Courage Award on Nov. 15.
The Orange Bowl Courage Award is presented annually to a player, coach or support person in college football who displays courage on or off the field, overcomes an injury or handicap, prevents a disaster or has lived through a lifetime of hardships. A select group of college football reporters from the Football Writers Association of America vote on the winner each year.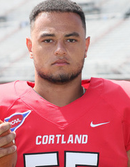 Richard is the first Division III player to be nominated for the Courage Award since it was created during the 2002 season.
The winner will be included in festivities during the Capital One Orange Bowl week and will receive the trophy in an on-field presentation. One of two College Football Playoff semifinals, the Orange Bowl will be held on Saturday, Dec. 29 at Hard Rock Stadium in Miami Gardens, Fla.
Richard's story was recently featured both in print on ESPN.com and in a video clip that aired on SportsCenter on the morning of Nov. 10.
He was presented with the Biden Courage Award for Bystander Intervention and a Next Generation Award from Kristin's Fund, an Oneida County charity that aims to end domestic violence through awareness campaigns. Richard has spoken at various events at SUNY Cortland and was invited to speak at Utica College's Take Back the Night March earlier this year.
---