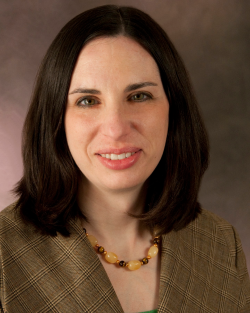 01/19/2011

Abby Thomas of McGraw, N.Y., was named director of advisement and transition at SUNY Cortland. She began her new duties on Jan. 3.
She replaces Carol Van Der Karr, who left that position in 2007 to become the interim associate provost for academic affairs and later was named associate provost for academic affairs.
Reporting to Van Der Karr, Thomas oversees advisement and transition, which operates under the umbrella of the Division of Academic Affairs. In addition to managing the office, she provides leadership for academic advising, transitional and retention programming for approximately 500 undergraduate and graduate students a year at SUNY Cortland. Thomas directs services within the office and works collaboratively with offices across campus to assess student need and enhance the student experience. Advisement and transition provides walk-in support and outreach in multiple media to assist both students and faculty in the advising experience.
Thomas supervises programs including academic advising, Orientation, the first-year seminar for all incoming students called COR 101: The Cortland Experience, first-year learning communities, transfer credit evaluation for new and continuing students, transfer student support, nontraditional student support, pre-major outreach for undeclared students, and graduate student services.
Thomas and Lori Schlicht had co-directed the office since 2007, both serving as associate director of advisement and transition.
Thomas joined SUNY Cortland in 2002 as coordinator of Orientation and academic advisor. She was promoted to assistant director in 2006 and associate director in 2008.
Previously, she served at the University of Massachusetts at Amherst's Housing and Residence Life Office from 2000-2002, as residence hall director and staff assistant for multicultural programs and community development. From 2003-04, Thomas was an external consultant to develop the university's first-year residential program.
She was a house director for Residential Life and Housing Services at Hampshire College from 1998-2000.
Thomas began her career of service to college students as a resident director at Alfred University in Alfred, N.Y., from 1997-98.
She earned a Master of Education in Counseling Psychology from James Madison University in Harrisonburg, Va. Thomas received a Bachelor of Arts in Clinical/Counseling Psychology with a minor in women's studies from Alfred University.
She currently chairs SUNY Cortland's General Education Committee and the Suspension Review Panel of the Judicial Affairs Office and serves on the Middle States Self-Study sub-committee on Academic Excellence, Cultural and Intellectual Climate Committee and the New Student Academic Convocation Committee.Thomas is a member of the National Academic Advising Association, National Orientation Directors Association, psychology national honor society Psi Chi and international honor society in the social sciences Phi Gamma Mu.
She is married to Bryan Thomas, a SUNY Cortland Art and Art History Department faculty member and interim gallery director at the College's Dowd Gallery. They have two sons, Owen and Drew.
---