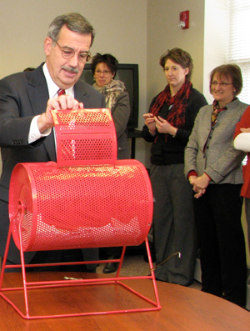 01/13/2011

A couple from Stony Brook, N.Y., MaryGrace McCarthy Lynch and Mark Lynch, were announced as winners in the College's Super Bowl XLV weekend package.
The prize included two tickets to the Super Bowl at the Cowboys Stadium in Arlington, Texas, this February, as well as hotel accommodations and $1,000 to offset travel expenses. The New York Jets presented the College with the two tickets this fall as part of their official partnership with SUNY Cortland.
The Lynches, who are SUNY Cortland alumni from the classes of 1983 and 1984, respectively, had purchased their winning ticket for $100. They won after College President Erik J. Bitterbaum drew their names on one ticket from a drum containing the 269 raffle entries.
Independent accountant Matthew McSherry observes President Erik J. Bitterbaum reading the winning raffle ticket.
"I am very grateful to all of those who purchased tickets for a chance to attend this once-in-a-lifetime event," observed Raymond D. Franco '72, vice president for institutional advancement. "This year we raised nearly $27,000 and will be able to use the proceeds to support scholarships, the arts, and alumni and civic engagement programs."
A similar amount was generated in last year's Super Bowl ticket raffle.
"Once again, the Super Bowl raffle has proven to be a wonderful fundraiser for the Cortland College Foundation and the College," Franco added. "This is a very valuable asset provided by our partner, the New York Jets."
Matthew McSherry, an independent accountant from the firm of Port, Kashdin and McSherry, audited the entire raffle proceedings. He observed the Dec. 8 drawing in the Brockway Hall first floor conference room, attended by a small gathering of onlookers.
---