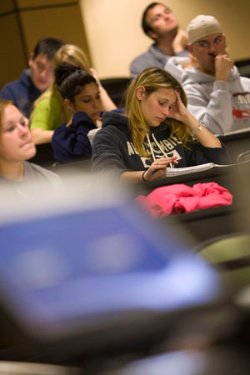 01/04/2011

For a fifth consecutive year, SUNY Cortland was ranked by Kiplinger's Personal Finance magazine among its 100 Best Values in Public Colleges, a list of national institutions that combine "outstanding economic value with top-notch education."
For 2011, SUNY Cortland moved up in the rankings to 54th in the nation for out-of-state students and to 70th nationally for in-state students. Last year, SUNY Cortland was ranked 56th and 75th, respectively, in both categories.
"Once again, we at SUNY Cortland are very proud of the fact that we have made Kiplinger's list of 100 Best Values in Public Colleges," said SUNY Cortland President Erik J. Bitterbaum. "I think it points to our long history of accomplishing the remarkable at this institution: the fact that we have faculty and staff and students and alumni all committed to excellence. Having developed a new strategic mission and plan, we're using it to move into even greater future success as we challenge ourselves to redefine what we think is possible in the 21st century."
"Despite rising tuition costs, there are still many first-rate institutions providing outstanding academics at an affordable price," said Janet Bodnar, editor of Kiplinger's. "Schools like these on the Kiplinger 100 list prove graduates can enter the workforce with a great education — and without a huge cloud of debt."
"Kiplinger's bases its rankings on a combination of academics and affordability," reported the magazine. "We start with data from more than 500 public four-year schools, provided by Peterson's/Nelnet, then add our own reporting. We narrow the list to about 120 schools based on measures of academic quality, including SAT or ACT scores, admission and retention rates, student-faculty ratios, and four-and six-year graduation rates, which most schools reported for the class entering in 2003.
"We then rank each school based on cost and financial aid. In our scoring system, academic quality carries more weight (almost two-thirds of the total) than costs."
---