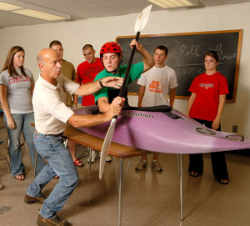 12/17/2010

SUNY Cortland's Recreation, Parks and Leisure Studies Department was reaccredited for five years by the national organization that governs the fields of recreation, park resources and leisure services.
The department's four undergraduate majors were approved through Fall 2015 at a recent meeting of the Council on Accreditation of Parks, Recreation, Tourism and Related Professions (COAPRT), in Minneapolis, Minn.
The SUNY Cortland bachelor's degrees options that meet or exceed COAPRT accreditation educational quality standards are: therapeutic recreation, outdoor recreation/natural resources recreation management, recreation management, and the general degree in recreation.
"We strive to inspire our students to become engaged citizens and effective professionals," said Sharon Todd, department chair. "The accreditation process has simply allowed us to reaffirm how we deliver our curriculum to our students. We make every effort not just to meet a set of minimum standards, but to prepare our students to make a true difference in the world."
In a letter to SUNY Cortland President Erik J. Bitterbaum, the council commended the College for its extraordinary commitment to student development through excellence in instruction and curriculum development, faculty engagement in the assessment process, achievement of campus-wide respect and leadership; exceptional service learning and experiential learning programs; and overall commitment to excellence as evidenced by 20 years of accreditation.
Formerly called the National Recreation and Park Association/American Association for Leisure and Recreation Council (NRPA/AALR) Council on Accreditation, the renamed council's accreditation process has evolved from one that focused on structure and process to one that focuses on assessment of student learning outcomes.
"The accrediting association has changed and we have, too," said Lynn S. Anderson, professor of recreation, parks and leisure studies, who shepherded her department's reaccreditation process as the previous department chair. "We moved from asking whether our classes had enough space for students and whether enough courses were being offered to being more student outcomes-oriented.
"We continued to seek reaccreditation for all four of our concentrations, something not many other schools have done," Anderson continued. "And one of our biggest accomplishments since the last reassessment was our success in moving our four programs from the status of concentrations to majors."
SUNY Cortland was one of only two colleges chosen to pilot the revised assessment program from among roughly 100 accredited nationwide offering this discipline, Anderson noted. Texas A&M University was first. The College is listed as one of the council's self-study assessment sites at http://www.nrpa.org/coa/.
The new standards become mandatory for all similar academic programs nationwide in 2013.
"Being a national model for other colleges and universities has been an honor for us, and a testament to Lynn Anderson's gifts and efforts to guide us through the new outcomes-based accreditation process," Todd asserted.
SUNY Cortland is one of four colleges in New York with accredited recreation and leisure studies departments, Anderson said. The other programs are SUNY Brockport, Ithaca College and St. Joseph's College. Among the four colleges, SUNY Cortland is the only one with four distinct bachelor of science programs. There are only two other programs nationwide that have four accredited areas: Western Illinois University and California State University at Chico.
Because of the program's accreditation, students in recreation and leisure studies are able to take national certification exams immediately upon graduation. Students from schools that are not accredited must work in the field for two years before they are eligible to take the exam.
Recreation, Parks and Leisure Studies, one of six separate academic departments within the School of Professional Studies, has been in existence since 1948. The department, which has approximately 120 undergraduates and about 60 graduate students, was first accredited in 1985.
The most recent accreditation process began two years ago when the faculty began reviewing the curriculum, strategic plan and learning outcomes assessment. In May of this year, two council representatives, Michael Blazey of University of California at Long Beach and Jeffrey Witman with York College of Pennsylvania, visited the campus to interview faculty, students and administrators as well as review the course offerings and facilities.
The department had to show evidence that it was meeting outcome-based standards for the core curriculum and additional standards for the four curricular options. The standards are based on areas ranging from learning outcomes to the quality of the faculty and students to the department's available resources.
"It was an honor to be chosen as a pilot school and it definitely was an effort on our part," Anderson said. "We could have simply used existing standards, but by being a pilot I think it helped us improve our program and gave us a better way to look at what we were doing. It paid off in the end because we did really well throughout the whole process. We are nationally recognized and the process just affirmed why that is so."
---