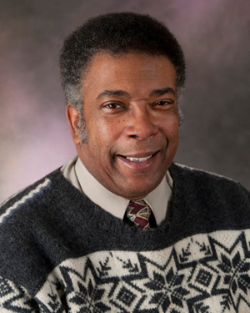 12/15/2010

Keith Smith of Ithaca, N.Y., who has directed SUNY Cortland's Educational Opportunity Program (EOP) for 18 years, will retire on Dec. 30. He has been designated as director emeritus of the program.
Smith, who joined the College in 1992, also has served since 1993 as an adjunct instructor in Africana studies.
During his tenure, Smith estimates that 540 students without the academic credentials to be admitted to SUNY Cortland have successfully completed the program and graduated.
Similarly, SUNY Plattsburgh, where he was EOP project director from 1981-92, recently honored him for the 330 students with similar credentials who graduated during his 11 years there.
When he first joined SUNY Cortland, 40 students in the program were on academic probation. Since then, his staff reduced the failure rate to well below 10 per year and to zero some semesters.
Since 1997, New York State's Office of Opportunity Programs (OOP) has awarded 230 OOP Chancellor's Awards to SUNY Cortland EOP students who achieved the necessary 3.0 cumulative grade point average and over the years a number of these students also were honored with a Chancellor's Award for Student Excellence.
Under Smith, SUNY Cortland's EOP has consistently ranked among the top five SUNY comprehensive colleges for its six-year graduation rate of EOP students, and often has achieved the top three ranking.
Despite SUNY funding and subsequent size reductions in recent years, the SUNY Cortland EOP currently serves 129 students per year, with many of them flourishing as student leaders and later in educational, health, government and other careers.
Between 1993 and 2010, Smith's successful grant writing resulted in awards totaling more than $850,000 to SUNY Cortland for EOP Summer Institute funding. In 2001, he obtained a grant for almost $50,000 from SUNY Systems Administration for multiple EOP initiatives.
He has presented at conferences and co-authored reports in his field.
Smith served as human rights chair of the College Student Personnel Association of New York.
He has served the College on numerous committees, currently as an ex-officio member on the Teacher Education Council and on the Ethnic Minority Student Recruitment and Campus Climate Committee of the Multicultural Council. He collaborated on the creation of the SUNY Cortland Vice President for Student Affairs Merit Award in 2001 and served as collaborator and co-author of the 1999-2000 report, "SUNY Cortland President's Task Group on Ethnic Minority Recruitment and Retention."
For many years, he served on the Africana (formerly African-American) Studies Faculty Committee and, from 1993-97, chaired the College's Affirmative Action Committee.
At SUNY Plattsburgh, he also taught Afro-American Studies on its faculty.
Smith taught pre-college mathematics at Clinton Correctional Facility in Dannemora, N.Y., from 1983-86.
He directed the Higher Education Opportunity Program (HEOP) at Utica College of Syracuse University from 1979-81, having previously served as coordinator of Academic and Supportive Services and as program counselor since 1975.
Smith also taught science from 1974-75 at Red Creek (N.Y.) Junior-Senior High School and the prior summer was an outdoor recreation specialist/recreation supervisor with the New York State Department of Parks and Recreation at Fair Haven (N.Y.) Beach State Park.
He was raised by a single mother of Native American heritage in Bronx, N.Y. Smith lost her at an early age and lived for a time in the Caribbean before graduating from high school in Brooklyn, N.Y.
He earned a Bachelor of Arts in Interdisciplinary Natural Science from SUNY Potsdam, where he made the President's List on three occasions. He received a Master of Science in Counseling from Syracuse University and completed additional graduate course work in counseling, social work, photography and business administration. At Plattsburgh, he took additional graduate and undergraduate courses in counseling, German, Spanish and Portuguese.
Smith is listed in Who's Who in American Education, Who's Who Among African Americans and Outstanding Young Men of America.
Smith's immediate retirement plan is to visit friends in Southeast Asia and the Philippine Islands.
---