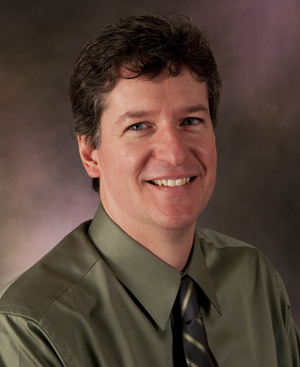 11/18/2010

SUNY Cortland has appointed Jeffrey Dmochowski of Skaneateles, N.Y., to the newly created position of director of networking and telecommunications. He began his duties on Nov. 8.
Working within the College's Information Resources, he reports to Amy Berg, associate provost for information resources.
"Jeff is responsible for upgrading the bandwidth and reliability of the wired and wireless networks in order to support new technologies like live video streaming on the campus," Berg said.
The hiring of Dmochowski continues the reorganization of Information Resources that began in January and which created the new Networking and Telecommunications unit that he oversees, she explained.
"He also is working to improve the security of our network and to ensure that our infrastructure has the capability of supporting future technologies," Berg said.
Dmochowski will be in charge of network and telecommunications security, serving as deputy cyber security officer and conducting risk evaluation and developing mitigation strategies against cyber attacks.
Dmochowski's primary role is the design, maintenance and operational management of the College voice and data networks. He supervises a staff of three, including a network technician, a network analyst and a secretary. Among his duties, Dmochowski plans and manages the ongoing operation and monitors and troubleshoots the campus-wide electronic communications and Internet interconnectivity, as well as the campus telephone system.
He will undertake various tasks associated with the design, planning and project management of network and telecommunications architecture. While remaining current with the industry and security standards, he will develop proposals for continuous quality improvements to the SUNY Cortland telecommunications and network infrastructure.
Dmochowski was employed for the last 15 years with global electronics productivity specialist Universal Instruments of Binghamton, N.Y., most recently as information technology infrastructure manager since 2008. In that capacity, he managed a department of six professionals supporting the global infrastructure and business applications of 600 users, 80 servers, 800 computers and eight locations. His major accomplishment was to modernize an outdated Lotus Notes R5 environment to R8 on 25 servers and 600 computers around the world to greatly improve user satisfaction with e-mail and information capabilities.
He had joined Universal Instruments in 1995 as network manager. In that capacity, he expanded a small Ethernet into a global network infrastructure spanning eight metropolitan buildings and 16 global locations.
From 1985-95, Dmochowski was employed as a software engineer by IBM in Owego, N.Y. He was responsible for the analysis, integration, development and support of computer-aided design systems and tools in use by more than 300 designers and engineers.
In 1985, Dmochowski earned dual degrees in Bachelor of Science in Mathematics and Bachelor of Science in Computer Science from Pennsylvania State University. He obtained a Master of Science in Telecommunication and Network Management from Syracuse University in 2003. He has professional certification as a Cisco Certified Network Professional.
---