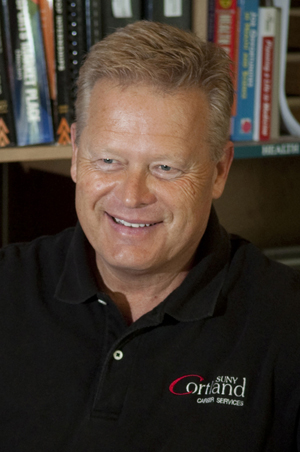 11/15/2010

Louis Larson, who has served SUNY Cortland's Career Services for the past 23 years, will retire on Dec. 31. He has been designated associate director emeritus of career services.
In June, he was honored with the Chancellor's Award for Excellence in Professional Service, recognizing his extensive record of professional service to the institution and beyond.
Larson joined the staff in 1987 as assistant director of career services and later was promoted to associate director.
Characterized by his colleagues as an "ambassador for SUNY Cortland," Larson has conducted approximately 75 student workshops a year. In addition, Larson has scheduled at least 500 one-on-one sessions with students each year. He is known for his unique ability to deliver information in a meaningful and engaging way. A charismatic and skilled speaker, Larson is often invited to classrooms to speak.
For many years, Larson has organized the annual Teacher Recruitment Days, a two-day event at the College in late spring that attracts thousands of education students from a consortium of 16 regional colleges in upstate New York and hundreds of recruiters from school districts across the continental U.S. and Hawaii.
Prior to joining SUNY Cortland in 1987, Larson was an admissions counselor, academic advisor and assistant director of admissions at Mayville State University in North Dakota.
While serving at the U.S. Naval Academy, he earned his associate degree in liberal arts from Anne Arundel Community College in Arnold, Md. He received his Bachelor of Arts in Social Science/History from Mayville (N.D.) State University and his Master of Arts in Counseling with an emphasis in student affairs and career development from the University of North Dakota. In 2000, he became a national certified counselor through the National Board for Certified Counselors.
Larson resides with his partner, Peter O'Connell, in Trumansburg, N.Y. They have three children, Daniel, George and Margaret; and two grandchildren.
---