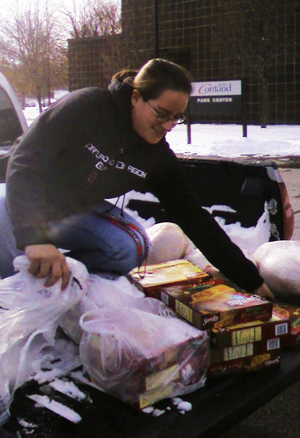 11/12/2010

SUNY Cortland student-athletes and staff boxed up and hand-delivered turkeys and all of the fixings for 15 Thanksgiving meals for needy families in Cortland County on Nov. 21.
Members of the 27 men's and women's intercollegiate varsity teams each donated a dollar for a total of approximately $800 to purchase the Thanksgiving dinners.
The athletes began boxing the meals at 10 a.m. Sunday in the College's Park Center lobby and delivered the gift baskets to each family's front door.
"Our Thanksgiving food drive is so important to student athletes because it gives us a chance to give back and connect to the community outside of our campus community," said senior varsity softball player Rachel Barry, a physical education major from Seaford, N.Y.
Barry is president of the SUNY Cortland Student Athletic Advisory Committee (SAAC), which sponsors the event at the request of the State University of New York Athletic Conference (SUNYAC). The conference has designated November as its Community Service Month and requests that each school member pick its own project.
"We enjoy doing this food drive because group effort goes a long way and seeing the smile on another person's face expressing appreciation is a fulfilling feeling," Barry said. "It is an overall great experience."
Kim Hill, director of the Cortland County chapter of the food pantry, Loaves and Fishes, assisted with identifying the local families who need Thanksgiving dinners.
For more information, contact Mike Discenza, assistant director of athletics, at (607) 753-4923.
---