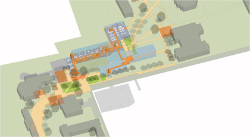 11/04/2010

A team of representatives from a Glens Falls, N.Y.-based architect recently unveiled a vision for future, SUNY Cortland campus construction that makes existing space more useful to the needs of the College community and a more inviting living and study environment for students.
This initial, very conceptual plan was presented on Oct. 29 in Sperry Center, Room 204, as part of a campus-wide informational session hosted by the College's Facilities and Master Plan Oversight Committee. No significant, new construction is suggested in its 10-year timeline from 2013-23.
The architect presented many ideas, including:
• The heavily trafficked lower Neubig Road could be converted into a pedestrian walkway bordered by trees and shrubs. Such a path, starting just below the Child Care Center turnaround, would reduce the very urban look and feel of that part of campus and make it a more inviting place for students to live.
• Winchell Hall, which houses both Academic Computing Services and Administrative Computing Services, could be torn down to make way for green space or, ultimately, a more useful and energy-efficient building.
• The brick Heating Plant Building along Gerhardt Drive could be converted into an Arts Annex studio for sculptors, ceramists and woodworkers, after part of the building is razed to create more parking space.
• Whittaker Hall could cease to house international students and instead give its new tenants, the University Police Department, the Cortland Emergency Squad and Facilities Planning, Design and Construction Office, more ready access to all parts of the campus.
• Eventually visiting faculty could have a new place to stay in a renovated McDonald Building on Tompkins Street, after it's used as temporary space for academic departments dislocated by other construction projects.
• The Communication Studies Department could be relocated from Dowd Center to more suitable, renovated space in Van Hoesen Hall's current Tomik Fitness Center after the recreational facilities are moved to the new Student Life Center. The department's TV studio would be nearby in Van Hoesen Hall's C Wing.
• Van Hoesen's B Wing might be retrofitted to contain a new Student Engagement Center staffed by the Student Affairs Office.
JMZ Architects and Planners of Glens Falls, N.Y., presented this aerial rendering of what the campus might look like in the next 10 years and beyond.
More than 50 faculty and staff members attended the meeting and many provided their feedback during a subsequent question-and-answer session. The presentation was intended to identify the College's priorities for major program moves, facilities improvements and site initiatives that are on the drawing board for 2013-23. Representatives from the State University Construction Fund also attended.
The draft plan was presented by Tenée Rehm Casaccio, managing principal, and Kristin G. Schmitt, principal, of JMZ Architects; and Margo Chiuten of the landscape design firm Trowbridge and Wolf of Ithaca, N.Y.
The consultants discussed these proposed capital plan priorities for the two, five-year capital plans beyond what's proposed or underway for 2008-13. The latter include Lusk Field House, Dowd Fine Arts Center, Professional Studies Building and Bowers Science I addition and renovation projects and construction of the new Student Life Center.
The committee will incorporate campus community comments into its final draft of the Cortland Facilities Master Plan on Jan. 7. Before that, a Master Plan Steering Committee meeting will take place on Nov. 12 and a progress meeting is set for Dec. 10.
Similar planning occurs at each SUNY campus to keep both college and SUNY in communication about future construction needs and state funding availability.
Casaccio noted that the College presently has more than 50,000 square feet of surplus space available. In keeping with broad, educational trends, future construction projects will convert these mainly larger spaces into more intimate ones suited to classes of 25 or fewer students and will prioritize creating study space outside the library and residence halls. The Memorial Library renovation project, at approximately $60 million, is easily the most costly item on the wish list.
The Master Plan will: prioritize projects that are sustainable; maximize resources; make "every space a learning space"; create indoor and outdoor environments that engage students; address changing teaching strategies and curricula; facilitate faculty and student interaction; support diversity and multiculturalism; and improve pedestrian traffic flow across the campus. The plan also seeks to find more suitable space for some academic departments, including Communication Studies.
Administrators present at the meeting acknowledged that progress on the construction plans within the timeline would depend heavily on future funding.
"My guess is it's actually a 25-year plan," observed College President Erik J. Bitterbaum. "We need the funds and legislative earmarks to continue in order to make sure it keeps happening."
For feedback on the plan, contact Joe Woodin in the Facilities Planning, Design and Construction Office at (607) 753-2214.
---