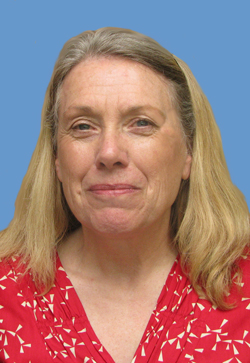 06/04/2010

Heather Bridge, a seasoned early childhood educator who taught at SUNY Cortland for 10 years, will retire on Aug. 31. She has been designated as assistant professor emerita of childhood/early childhood education.
A teacher for many years in her native U.K., Bridge also has served as an experienced researcher with knowledge of international childhood/early childhood educational theory, practice, policy and administration.
Bridge earned a Ph.D. in early childhood education from the University of Birmingham in the U.K. Her thesis was titled "An Evaluation of the High/Scope Curriculum: An Action Research Approach." She also received a bachelor's degree in social science with education from the Open University, also in the U.K. She has a Certificate of Education from the Newcastle-upon-Tyne College of Education.
Bridge began her career as a secondary school teacher for the Bedfordshire County Council, U.K., from 1973-79. She tutored for the Shropshire County Council from 1982-87. Bridge served as a learning support and social science teacher for the Shropshire County Council in 1987. In 1989, she established her own nursery school, the Mount Nursery School in Telford, U.K., where she implemented the U.S. High/Scope Curriculum. In 1996, with extensive parental involvement, the Mount Nursery School was relocated into the local elementary school. Bridge then joined the country's Office of Standards in Education (OFSTED) as a nursery school inspector. She served until 1999.
The Binghamton, N.Y., resident joined the College's Childhood/Early Childhood Education (C/EC) Department in 2000 and has taught a number of undergraduate and graduate courses as well as advised students. She developed new courses and contributed to the early childhood block comprising several courses and supervised student teachers in Binghamton, Cortland and London, U.K.
She obtained a two-year grant for almost $149,000 from the New York State Office of Child and Family Services for her project to develop the Cortland Area Early Childhood Professional Development Service between 2007-09. The grant was operated in collaboration with the Cortland Childhood Area Childcare Council (CACCC). With C/EC and Memorial Library faculty involvement, professional development services were offered to groups of Cortland early childhood educators and to SUNY Cortland practicum students at the same time.
From 2001-02, she conducted an evaluation of family involvement in children's learning activities at a Head Start center with support from a SUNY Cortland Faculty Incentive Grant.
Bridge undertook a third, unfunded research project in 2004 to evaluate the London Student Teaching Program.
Her scholarship has been published in professional journals including The Language and Literacy Spectrum (New York State Reading Association) and the International Journal of Early Years Education. Bridge has made numerous conference presentations at professional associations around the state, country and in the U.K. on topics in her field. She has conducted workshops for early childhood educators at the College and in the community.
Bridge served on many College committees including the Undergraduate Research Committee and was the U.K. coordinator for study abroad programs. She also served on many committees within her school and department.
In the community, Bridge was on the board of the Cortland Area Child Care Council (CACCC), the board of the Cortland Association for the Education of Young Children (CAEYC) and facilitated community sessions for the SUNY Cortland Children's Museum. She served as a board member, staff trainer and classroom volunteer with the Family Enrichment Network (Head Start) from 2000-03.
Bridge is active in many professional associations, including the American Educational Research Association. She was honored with the College's 2006 Excellence in Research and Scholarship Award and was inducted into the SUNY Cortland chapter of the Phi Beta Delta, the national honor society for international scholarship. As a result of her nursery school curriculum development, in 1995 she was awarded the English Speaking Union's Walter Hines Scholarship, enabling her to visit early childhood settings in six U.S. cities where the High/Scope Curriculum was implemented.
---