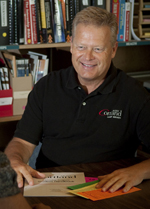 05/19/2010

Louis Larson, associate director of Career Services at SUNY Cortland and employee for the past 23 years, will be honored with the Chancellor's Award for Excellence in Professional Service.
Larson will receive the prestigious award during the 2010 Undergraduate Commencement on Saturday, May 22, in the Park Center.
Larson becomes the 22nd SUNY Cortland staff member to receive the Chancellor's Award for Excellence in Professional Service, recognizing his extensive record of professional service to the institution and beyond. Since joining the staff in 1987 as assistant director of Career Services and later as associate director, the Nominating Committee noted Larson's positive and enduring impact on students, faculty, staff and alumni who have had the good fortune to interact with him.
"I would place the process of writing a résumé and cover letter in the same category as going to the DMV (Department of Motor Vehicles) or visiting the dentist," said one of Larson's former students. "It is just one of those stressful life experiences that everyone has to go through but most would rather avoid, that is, unless you are working with Louie Larson on your job search and application."
Characterized as an "ambassador for SUNY Cortland" by eight people who recommended him for the award, Larson conducts approximately 75 student workshops a year. In addition, Larson schedules at least 500 one-on-one sessions with students each year. He's known for his unique ability to deliver information in a meaningful and engaging way. A charismatic and skilled speaker, Larson is often invited to classrooms to speak.
"How do I tell such an amazing person how much they have had an impact on me?" wrote one student. "It's not easy! When I think of you, Louie, I wish there were more people on this planet like you. What a wonderful place it would be!"
"He is at once a teacher, a dynamic speaker at College events and an exceptional career counselor," said Denise Knight, English Department.
Prior to joining SUNY Cortland in 1987, Larson was an admissions counselor, academic advisor and assistant director of admissions at Mayville State University in North Dakota.
While serving at the U.S. Naval Academy, he earned his associate of arts: liberal arts degree from Anne Arundel Community College, Arnold, Md. He earned his bachelor of arts in social science/history from Mayville State University, N.D.; and his master of arts in counseling with an emphasis in student affairs and career development from the University of North Dakota. In 2000, he became a National Certified Counselor, National Board for Certified Counselors.
Larson resides with his partner, Pete O'Connell, in Cortland and Trumansburg, N.Y. They have three children, Daniel, George and Margaret, and two grandchildren.
---