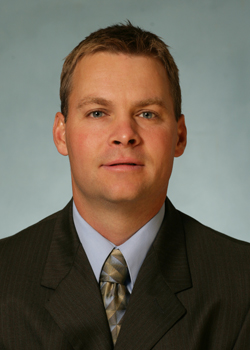 05/12/2010

Mike Urtz, SUNY Cortland's interim director of athletics since January, was appointed on May 1 as the College's full-time director of athletics. Urtz served as interim director following Joan Sitterly's retirement as director, a position she held since April 2004.
A 1994 Cortland graduate, Urtz earned his master's degree from the College in 1999. He was the Red Dragons' associate director of athletics from 2004-09 and served as interim director from November 2007 through April 2008 in addition to his most recent interim role. He held the title of assistant director of athletics from 2001 until his promotion to associate director.
Assistant athletic director Tom Cranfield will now assume the role of interim associate director of athletics and athletics coordinator for student services Mike Discenza has been named an interim assistant director of athletics following Urtz's promotion.
"(Mike) will continue to provide vision and guidance for SUNY Cortland's Division III intercollegiate athletics program," said Mark J. Prus, provost and vice president for academic affairs. "He will develop and lead the athletics program with an emphasis on academic achievement, integrity and a commitment to excellence and distinctiveness."
The Ilion, N.Y., native was a standout baseball outfielder for the Red Dragons from 1990-93 and also served as an assistant baseball coach for 10 seasons. As a player, Urtz earned All-SUNYAC, all-state and all-region honors in 1992, and as a senior in 1993 he helped the Red Dragons win the ECAC Upstate New York title and qualify for the NCAA Division III playoffs. A team captain that season, Urtz earned All-SUNYAC and all-region awards.
Urtz and his wife, Charlene, have three children and reside in Cortland.
---