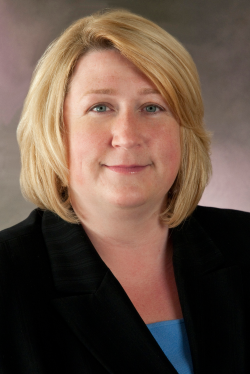 05/11/2010

Carol Van Der Karr, SUNY Cortland's interim associate provost for academic affairs since November, was appointed to the permanent position on April 23, following a national search.
Van Der Karr will oversee the College's curriculum review process, the General Education program, and the Registrar's Office, Institutional Research and Assessment Office, and Advisement and Transition Office, said Mark J. Prus, provost and vice president for academic affairs.
As associate provost, her leadership initiatives will foster cohesiveness and collaboration among departments, motivate and sustain the highest level of excellence in unit efforts and provide encouragement and support for ongoing professional development.
Van Der Karr previously fulfilled the duties of interim assistant provost for enrollment management from 2007-09. Before that, she had directed academic advisement since 2002. She joined SUNY Cortland in 2000 as coordinator of academic advisement and first-year programming.
Previously, Van Der Karr directed undergraduate services at Syracuse University's School of Education.
She began her professional career in 1991 at SUNY Buffalo as a career services assistant in the Educational Opportunity Center. She also worked as a counseling supervisor at the Sexuality Education Center and a development intern at the University's Independent Living Center.
In 2003, Van Der Karr was honored by the National Academic Advising Association (NACADA) with its 2003 Outstanding Advising Certificate of Merit to an Academic Advising Administrator Award for her accomplishments both as an academic advisor to students and as an administrator of an academic advising program.
She was honored with a National Service Day Recognition Award for Community Service in the City of Buffalo for her hospital advocacy on behalf of sexual assault victims.
She has served as an instructor at Syracuse University's Higher Education Program and an assessment intern at Onondaga Community College's Learning Support Center.
A native of Brockport, N.Y., Van Der Karr earned a bachelor's degree in social relations at Lehigh University, where she chaired the Lehigh Women's Health Conference, coordinated the university's first annual AIDS Awareness Week, and earned the Presidential Award for Outstanding Commitment to Student Life.
She received a master's degree in counseling and educational psychology from SUNY Buffalo and a doctorate in higher education from Syracuse University.
Van Der Karr resides in Cortland, N.Y.
---