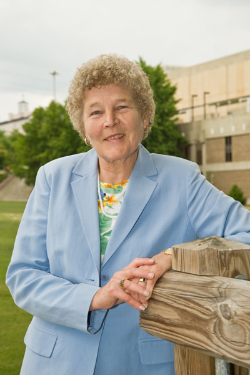 07/04/2010

The SUNY Cortland Alumni Association will present its highest honor, the Distinguished Alumni Award, to three graduates during the Alumni Reunion Weekend luncheon in Corey Union on Saturday, July 17.
The 2010 Distinguished Alumni Award recipients are Judith Rink '65, a professor of physical education at the University of South Carolina who has been nationally and internationally recognized in her field, and the late Kathleen O'Callaghan Maul '72, who was nationally recognized for her leadership as the executive director for United Cerebral Palsy of Greater Suffolk (UCPGSC). The association will bestow its Distinguished Young Alumni Award on Amber Larkin Rice '03, a North Carolina schoolteacher who joined 19 outstanding educators on the national All-USA Teacher Team in 2007.
Since 1968, 109 SUNY Cortland graduates, including this year's honorees, have received the Distinguished Alumni Award for their career accomplishments and outstanding service to their community and alma mater. In addition, 19 alumni have been recognized with Distinguished Young Alumni awards and six have been named Honorary Alumni.
Judith Rink '65
A Long Island native and a graduate of East Meadow (N.Y.) High School, Rink earned a Master of Science in Physical Education from the University of North Carolina at Greensboro and a doctorate from Ohio State University.
A resident of Chapin, S.C., Rink has served 28 years on the physical education faculty at the University of South Carolina (USC).
"She is viewed as one of the foremost researchers in the country on physical education curriculum development," wrote Patricia Sullivan, professor emerita in the Exercise Department of The George Washington University, in nominating Rink for the award. "She is truly an exceptional individual and an exceptional professional. She has served as an inspiration to many."
Rink has authored or co-authored six books, including the 2010 text, Schoolwide Physical Activity: A Comprehensive Guide to Designing and Conducting Programs (Human Kinetics) and the 2008 text, Designing Physical Education Curriculum for a Physically Active Lifestyle (Boston: McGraw-Hill). Another book, Teaching Physical Education for Learning (Boston: McGraw-Hill), goes to press with a sixth edition. Rink also has written more than 40 articles appearing in refereed publications and delivered more than 60 national or international presentations in her field. She is a regular manuscript reviewer in leading physical education publications including the Journal of Teaching Physical Education, Research Quarterly for Exercise and Sport and the Journal of Physical Education, Recreation and Dance.
Rink has supervised and mentored many doctoral dissertations and masters theses and directed the post-doctoral studies of several current leading faculty members in higher education as well as hundreds of undergraduate students.
"I have been proud to pass the torch to them," she writes. "As important as academic preparation is for a profession, the most valuable tool for a successful career that I received from Cortland was the desire to be the best professional that I could be. We called it PA, or 'professional attitude,' back in those days and in today's vernacular it would be called 'socialization into a profession.' I have carried PA with me throughout my career and continue to hold dearly those values that were instilled in me as a young undergraduate."
Judith Rink '65 stands on the University of North Carolina at Greensboro campus.
At the state level, Rink has directed the South Carolina Education Assessment Program, which is a comprehensive model for state assessment emulated by New York state.
The National Association for Sport and Physical Education (NASPE) named her to its Hall of Fame in 2000 and, in 2007, presented her with its Teacher Educator Honor Award. Rink has served many professional organizations, including on NASPE's Board of Directors and its Quality Physical Education Task Force. In 2003, the College of Education at USC honored her with its Outstanding Researcher Award.
Rink was inducted into SUNY Cortland's C-Club Hall of Fame in 1988 for accomplishments that included both an Outstanding Teacher Award and a Scholar Award from the South Carolina Association for Health, Physical Education, Recreation and Dance.
The American Academy for Kinesiology and Physical Education, one of the most prestigious organizations in the field, inducted her as a member in 2006 and the American Alliance for Health, Physical Education, Recreation and Dance presented her with a 1999 Curriculum and Instruction Academy Honor Award.
"I have been successful at what Cortland sent me off to do: to be the best physical educator I could be and to be a tireless advocate for my profession," Rink writes. "When people ask me what I am, my response is always the same, 'I am a teacher and a teacher educator.'"
Kathleen O'Callaghan Maul '72
United Cerebral Palsy of Greater Suffolk County (UCPGSC) has named its universal access center, now under construction, in memory of the late Kathleen O'Callaghan Maul '72 as a heart-felt tribute to the woman who championed access for people of all abilities during the final decade of her life.
"Ms. Maul has been recognized on the national level as one of the most positive and productive forces in the field of services for persons with disabilities," writes George Maul '72 of Dix Hills, N.Y., who co-nominated his late wife with Kathleen's classmate, Carol Whitney-Agate '72 of Cortland, N.Y.
After receiving her bachelor's degree in special education from SUNY Cortland, Maul began her career at Rome Developmental Center, where she organized the first student government in a state agency.
Her efforts toward individual advocacy and maximization of each person's development continued as a special education teacher in the Syracuse Developmental Center and later at the Long Island Developmental Center in N.Y. While in Syracuse, she completed her post-graduate work at Syracuse University.
Her unique ability to organize and effectively focus her staff efforts to the benefit of clients was quickly recognized and she advanced to the position of associate director for community services at the Long Island Developmental Center.
In 1990, Kathleen Maul became the associate director of UCPGSC, based in Hauppauge, N.Y., which serves more than 2,500 clients and families. In 1993, she was promoted to executive director, and her agency received accolades. The New York State Self Advocacy Association named UCPGSC the 1995 Agency of the Year. The United Cerebral Palsy Association presented Kathleen Maul with its 1997 Commitment to Quality Award for Customer Responsiveness in recognition of her efforts to provide people with cerebral palsy and other disabilities and their families a larger participating role in every aspect of agency operations.
The late Kathleen O'Callaghan Maul '72.
"One of Kathy's visions was an environment of total accessibility on a campus that would include an education center and a comprehensive health facility, providing primary and specialty care, mental and dental health services and therapeutic interventions for persons with disabilities," wrote Marsha Gittleman, the agency's director of development and public relations. "Among her most significant accomplishments was securing property for this project through a federal grant and overseeing the initial plans for its design before her untimely passing" in 2003.
That year, the agency's board of directors voted to name the planned facility the Kathleen O. Maul Center as a living tribute to her commitment to universal access for everyone.
"Her spirit and commitment to individuals with disabilities is strongly ingrained in all who knew her and worked with her," George Maul said. "She is, most truly, a Distinguished Alumna, but more significantly, she is loved and respected by all who knew her."
She and her husband, George, raised three children, Brehan, Meaghan and Katie.
Amber Larkin Rice '03
A SUNY Cortland professor who never taught Amber Larkin Rice '03 nominated her for Distinguished Young Alumna after reading about her accomplishments in a 2007 newspaper article listing 20 of the most honored U.S. teachers.
A fourth grade teacher since 2008, Rice has become a national role model for inner-city educators.
USA Today placed her on its 2007 All-USA Teacher Team for transforming the lives of her impoverished, homeless and, in some cases, recent refugee students in Charlotte, North Carolina's largest city. The Rome, N.Y. native who earned her elementary education degree from SUNY Cortland, has been teaching at Billingsville Elementary School and its predecessor, Chantilly Elementary School, since graduation.
"To say the least, I was blown away by both the award and the creativeness of her teaching," observed SUNY Distinguished Service Professor of History Roger Sipher. "In 2006 all of her students passed the North Carolina End of Grade tests despite the fact that she teaches in the lowest performing school in the district. This despite the fact that she teaches in a school wherein 91 percent of the students receive either a free or a reduced fee lunch. And this despite the fact that 30 percent are English as a second language students and 18 percent are homeless."
USA Today selected Rice from among thousands of nominees for the honor. The USA Today article noted that Larkin will do whatever it takes to make her students learn. She created a military camp and battle scene to teach a lesson on the Civil War and transformed her classroom into a "grab and go" style grocery store to teach math. Within her classroom, she tailors her teaching method to the individual student. Quiet students are encouraged to talk and vocal students are given center stage.
Amber Larkin Rice '03 is shown teaching in North Carolina in 2007.
"Teaching is rewarding," Rice noted in the article. "I love to see their faces light up when they know they've learned a word or solved a problem."
Growing up in Rome, N.Y., Rice was inspired to join the field of education by her first grade teacher, Karen Kehoe Tagliaferri '86.
"I loved Cortland and the education program was great," said Rice, who still employs the technology research techniques she gained as an education undergraduate. "I feel like everything we did was real world. It wasn't so much theory-based as it was about strategies that you could actually take with you and use."
She earned a master's degree at nearby Pfeiffer University. Since her nomination, Rice has earned the Successful Teacher Administrator Award, reflecting her high academic change in achievement levels of students previously performing below grade level for 2005-06, 2006-07 and 2007-08. She received an individual teacher bonus awarded for exceptional growth on the End of Grade Assessments.
Rice was the subject of a 2008 "Above and Beyond" feature story by CMS TV3. She appears on "The Power of Two," a DVD produced by Marilyn Friend that provides a comprehensive look at co-teaching as part of the foundation of an inclusive, collaborative school. She delivered a presentation on "Classroom Strategies to Motivate Success" in 2008 at the North Carolina Department of Public Instruction's conference titled "Raising Achievement Closing the Gap."
In June 2008, she married Stephen Rice, another Rome, N.Y. native teaching fourth grade in the Billingsville School. They live in Tega Cay, S.C. They enjoy golfing together and are expecting their first child in late June.
---