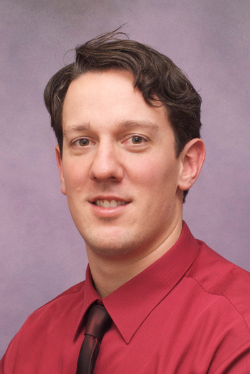 03/04/2010

Richard T. Coyne, a SUNY Cortland graduate with 10 years of hospitality experience, has joined the College in the newly created position of alumni house director.
He began managing the Lynne Parks '68 SUNY Cortland Alumni House at 29 Tompkins St. on Monday, March 1.
Coyne, who reports to Stacey Goldyn-Moller, executive director of alumni affairs at SUNY Cortland, will expand on duties previously handled by a part-time special events manager and administrative assistants.
He undertakes the strategic planning, marketing and promotion of the alumni house, both on and off campus. He is responsible for creating and managing the facility budget and supervising the house maintenance and upkeep staff, as well as introducing internship and work-study opportunities. He pursues the continued growth of the alumni house as a fundraising entity for the SUNY Cortland Alumni Association.
Since last May Coyne, of Wantagh, N.Y., has served as chef at the Chart House in Weehawken, N.J. From 2005-07, he was chef at Hudson & McCoy's in Freeport, N.Y. Additionally, restaurants in Hoboken, N.J., hired him as sous chef to help the main chef operate on-site catering venues for weddings, graduations and private parties.
As weekend facilities supervisor for the Stevens Institute of Technology from 2007-09, he ensured the proper maintenance of all seven athletic facilities and oversaw a student work-study staff that assisted in facility upkeep and maintenance. For the first half of 2009, he also was events/operations manager, responsible for supervising and managing numerous positions during all varsity home events. He served as assistant sports information director for the institute, managing 16 of its 25 different varsity-level sports. He was involved when the college hosted the 2007 NCAA Division III Women's Volleyball Regional Championship and the 2008 NCAA Division III Men's Soccer Sectional Championship.
In 2009, the Stevens Institute's Athletics Department presented him with its Edwin "Doc" Farrell Award for outstanding integrity, service, conduct and dedication to the department, as well as its M. Doddy Service Award.
Coyne received a Bachelor of Arts in Communication Studies from SUNY Cortland in 2007. He concentrated in public relations and advertising and completed minors in sport management and business management. Coyne earned a Master of Science in Management from the Stevens Institute of Technology last May.
As an undergraduate, he served as an advertorial intern for the Syracuse Post-Standard, interviewing advertising clients and local business owners to write published featured advertising pieces as a service. SUNY Cortland's Communication Studies Department presented him with its 2007 Excellence in the Field of Public Relations Award.
As a member of SUNY Cortland's football team, Coyne was a three-year letter winner who recorded 13.5 career quarterback sacks in 27 games. He started all 10 games as a junior in 2005 and helped Cortland earn an NCAA playoff berth. Coyne was an honorable mention All-New Jersey Athletic Conference defensive lineman. As a senior, he was team captain and starter in all 11 games in 2006 as Cortland finished 9-2 and earned an Eastern Collegiate Athletic Conference playoff spot. The SUNY Athletic Conference named him to its 2005-06 All-Academic Team.
He plans to reside in Cortland.
---