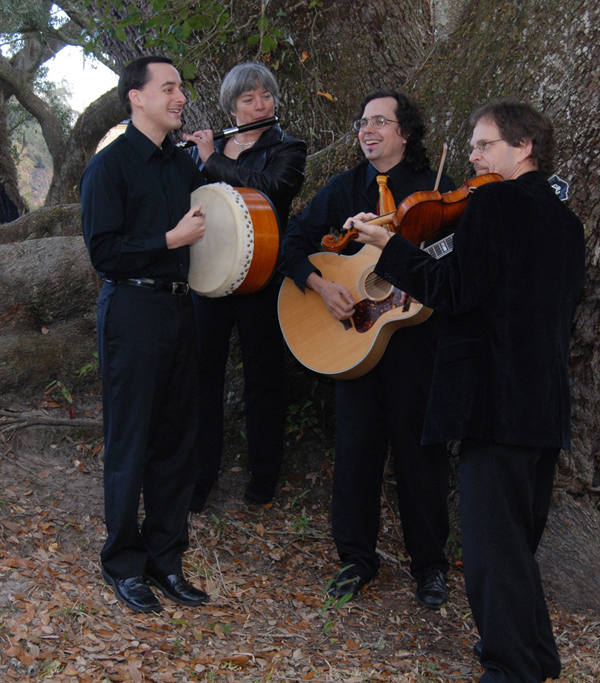 02/02/2010

The Gulf Coast musical quartet, Mithril, will bring its progressive, Celtic world sound to SUNY Cortland on Saturday, March 6.
Presented by the College's Campus Artist and Lecture Series (CALS), the band, which is fast becoming one of the most sought after Celtic/world music groups on the concert series scene across the U.S., will begin at 7 p.m. in the Old Main Brown Auditorium.
Admission is $3 for SUNY Cortland students and $5 general admission. Children 10 and under are admitted free. Tickets may be obtained through the Campus Activities and Corey Union Office, Corey Union, Room 406, or at the door one hour prior to the performance. For more information, call (607) 753-5574.
Mithril nudges the musical envelope with lively and complex arrangements that deftly interlace multiple tunes and keep audiences engaged in the entire concert experience. The band's progressive style has its roots in traditional Celtic music but moves far beyond that, weaving such diverse influences as American folk, classical and Middle Eastern melodies into its full tapestry of sound.
The four Gulf Coast-based musicians — Andra Bohnet, Tom Morley, Ben Harper and David Hughes — perform their all-instrumental shows on a wide array of traditional instruments including Irish flute, whistle, fife, Celtic harp, fiddle, bouzouki, mandolin, guitar, bodhran (Irish frame drum), and harmonium. The performers play with the precision of their classical training and the enthusiasm that springs from their love of the music.
Band members have traveled from Nova Scotia to Ireland to play and research Celtic music. Collectively and individually, they have studied with and performed alongside some of the most well-respected musicians in the Celtic music world.
Mithril has been featured on arts and concert series and festivals throughout the Southeast and beyond. As guest artists with Mobile (Ala.) Symphony, Mithril set an all-time attendance record for a symphony pops series. They have been guest artists with symphonies across the U.S.
Mithril has five CDs on Flying Frog Music including their newest release, "Tangled Up." Their music has received airplay on the nationally syndicated "Celtic Connections" radio show and on Internet radio sites including AOL World Radio, XM Satellite Radio, Ren Radio and Celtic Moon.
The group's "Live In Concert" CD "gives great insight into four musicians on top of their game," commented Compass/Green Linnet recording artist Manus McGuire. "The Quartet played with verve and seemed to be in constant motion; clearly they were having fun," wrote a reviewer for The Register in Mobile, Ala. For more information about Mithril, visit the band's Web site at www.mithril.us.
The event is supported by the student activity fee, the SUNY Cortland Auxiliary Services Corporation and the Cortland College Foundation. For information about CALS events, visit the CALS 2009-10 Web site at www2.cortland.edu/events/cals.
PHOTO CAPTION:
Mithril members, from the left, are: David Hughes, Andra Bohnet, Ben Harper and Tom Morley.
---