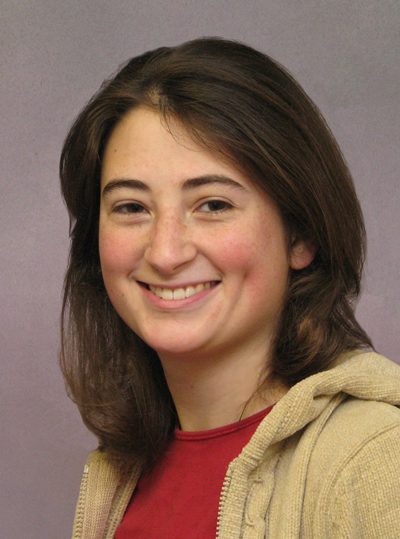 01/07/2010

Stephanie Plude of Cortland, N.Y., has been named Main Street community outreach coordinator. She will assist town-gown partnerships based at Main Street SUNY Cortland at 9 Main St.
Plude's responsibilities include developing, coordinating and implementing a number of the programs for the SUNY Cortland Institute for Civic Engagement (ICE) and the Cortland Downtown Partnership. She will seek new ways to engage the College and the community in joint ventures.
She replaces the ICE's first community outreach coordinator, Timothy Rodriguez '08, who completed his AmeriCorps term of service Dec. 14 and accepted a newly created position with the ICE as the building community leaders coordinator. His term runs through May 2010.
Plude, who started on Dec. 1, reports to Richard Kendrick, director of the College's Institute for Civic Engagement, and Adam Megivern, executive director of the Cortland Downtown Partnership.
"We are very happy to have Stephanie working with us," said Kendrick, who is also a SUNY Cortland professor of sociology/anthropology. "Among her first projects is to continue the work Tim started to celebrate Martin Luther King, Jr. Day on January 18, 2010. She will be working in collaboration with the YWCA and other campus and community groups. She is also working with Adam Megivern, executive director of the Cortland Downtown Partnership, on the upcoming Chill-a-Bration event in February."
"I hope to increase consumer traffic to downtown Cortland and support for local businesses and farms," Plude said. "I will also be encouraging collaboration between SUNY and community organizations to build a sense of community and responsibility. In times of economic hardship, a strong community network and the pooling of resources benefits both individuals and Cortland in the long-run."
Plude is one of 15 AmeriCorps volunteers currently working or in the process of being recruited for agencies in the Cortland community, said Kendrick. He collaborated with the College's Research and Sponsored Programs Office to secure the initial $199,900 in AmeriCorps funding and Educational Benefit Awards for the project. AmeriCorps extended the grant for a second year with $148,489 in funding while federal Recovery Act funds also supported the initiative.
AmeriCorps members are treated as employees by the agencies for which they work. They are paid a small stipend from a federal grant that was awarded to SUNY Cortland and the community in July 2008 from the Corporation for National and Community Service.
A native of New Haven, Conn., Plude graduated from SUNY Binghamton in 2008 with a B.A. in environmental studies: policy and law and a minor in geography. She attended study abroad at Lancaster University in the United Kingdom, and completed three semesters at Eastern Connecticut State University.
Throughout her college years, Plude was involved in the Student Environmental Awareness Club, the Student Action Coalition, the Binghamton Political Initiative, Binghamton Food-Not-Bombs, Binghamton's student-run Food Co-op, and Eastern Connecticut State University's Roots & Shoots. Stephanie interned with ECSU's Institute for Sustainable Energy and Performance System Maintenance, and she was trained in campus organizing by the public interest research group, Arizona.
Kendrick said he was pleased to have Rodriquez continue to work with the ICE.
"In his capacity as our building community leaders coordinator, Tim will help us organize our Fall 2010 'Fire It Up: Lead the Way to Change' conference," Kendrick said. "He will work with the Institute for Civic Engagement and the Division of Student Affairs on our Leadership Living Learning Community. Tim will help develop curricular materials on leadership and civic engagement that will be made available to COR 101 instructors."
Rodriguez will help publicize and coordinate a new program the ICE is introducing of internal grants for departments and other campus programs seeking to institutionalize civic engagement leadership.
A native of Poland, N.Y., Rodriguez earned a Bachelor of Science in Outdoor Recreation from the College in 2008. While at SUNY Cortland, Rodriguez was the Student Government Association Senate representative for the Cortland College Recreation Association (CCRA). He was project leader on the environment with the New York Public Interest Group (NYPIRG), founder and president of the Cortland Running Club and president of Habitat for Humanity.
Each year, AmeriCorps offers 75,000 such opportunities around the nation. AmeriCorps members tutor and mentor disadvantaged youth, fight illiteracy, improve health services, build affordable housing, teach computer skills, clean parks and streams, manage or operate after-school programs and help communities respond to disasters.
---