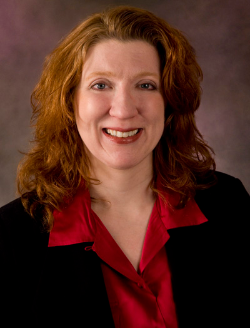 11/19/2009

Stacey A. Goldyn-Moller, the director of alumni affairs at Hofstra University in Hempstead, N.Y., will join SUNY Cortland as executive director of alumni affairs on Monday, Dec. 14.
She replaces Douglas DeRancy '75, M.S.Ed. '82, who has served the College in alumni affairs and fundraising executive positions since 1986 and accepted the newly created position of assistant to the vice president for institutional advancement.
As executive director of alumni affairs, Goldyn-Moller will provide leadership and direction for the College's Alumni Affairs Office and the Cortland College Alumni Association, Inc. As the principal liaison for the College in matters affecting alumni, she will serve as the alumni association's executive secretary. The director also assists with major gift development on behalf of the Cortland College Foundation, Inc.
At Hofstra since March 2007, Goldyn-Moller has annually initiated and started more than 20 programs to foster effective alumni communications, fundraising and engagement in the life of the university. She works closely with eight alumni volunteer boards and committees to develop and launch new alumni initiatives as well as to obtain the financial resources to carry them to fruition for the university's more than 118,000 alumni. She cultivates more than 300 Hofstra alumni who show a special interest in supporting their alma mater. In 2009, she helped raise more than $300,000 in gifts from graduates anticipating their 35th reunion. Goldyn-Moller manages two professionals serving as assistant and associate director, as well as support staff, graduate assistants and student volunteers.
Previously, she served more than five years as the volunteer program manager for the Long Island Chapter of The Nature Conservancy. Goldyn-Moller created and maintained the chapter's first organized volunteer program, which grew from 20 to 400 active volunteers. She managed the volunteers, 10 staff liaisons and assisted the community outreach efforts of six preservation programs.
Goldyn-Moller has also served as director of marketing for The United Way of Long Island, development associate for WQED in Pittsburgh, Pa., membership manager for the Pittsburgh Center for the Arts and assistant manager of visitor services for Carnegie Museums of Pittsburgh.
A native of Strykersville, N.Y., south of Buffalo, Goldyn-Moller earned a Bachelor of Arts in Fine Arts/Art History from SUNY Geneseo and a Master of Science in Non-Profit (Arts) Administration from the University of Oregon. She has completed extensive post-graduate course work in her field through the Council for the Advancement and Support of Education (CASE), the Dale Carnegie Training Institute and other institutions. She is a member of CASE, the Association of Fund Raising Professionals and the Association of Professional Volunteer Administrators.
She and her husband, Greg Moller, have a 3-year-old son, Calvan. They plan to reside in Cortland.
---