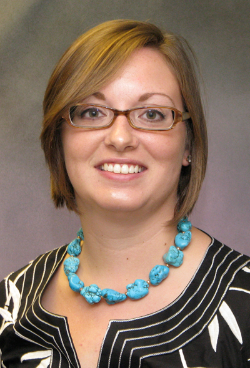 09/22/2009

Traci M. Washburn of Minoa, N.Y., joined SUNY Cortland on Sept. 14 as assistant director of The Cortland Fund.
Washburn, who most recently served as a graduate admissions recruiter for the Syracuse University School of Education, reports to Jennifer Janes, director of The Cortland Fund, within the Division of Institutional Advancement.
Washburn is responsible for assisting Janes in developing and meeting unrestricted and designated annual gift fundraising goals each fiscal year through direct mail, online and electronic solicitations and stewardship activities. She also has the primary responsibility for the operation and daily management of the department's call center activities.
"It's exciting to welcome Traci to The Cortland Fund team," said Janes. "She brings a wealth of experience with her that will help us achieve our goals and take the student calling program to new heights. I look forward to working with her to reach out to more alumni and raise more dollars that will benefit our students and the mission of SUNY Cortland."
At Syracuse University from August 2007-April 2009, Washburn oversaw all aspects of graduate admissions for 52 programs at the School of Education. She produced marketing publications and traveled to colleges and universities and implemented scholarships for graduate students.
Previously, also at Syracuse University, Washburn was admissions coordinator in the College of Law from August 2004-August 2007, assisting the college in managing its yearly admissions communication process. She had joined the College of Law in November 2003 as applications coordinator and, in March 2004, was promoted to recruitment coordinator before becoming admissions coordinator.
She earned a Bachelor of Arts in Journalism from St. Bonaventure University's Russell J. Jandoli School of Journalism and Mass Communication.
Washburn is a member of the National Association of Graduate Admissions Professionals and the New York Association of Graduate Admissions Professionals.
Since 2008, she has written a column as a volunteer for the monthly newsletter of the Rosamond Gifford Zoo in Syracuse. From 2002-03, she conducted interviews with residents of the Genesis House in Olean, N.Y., and directed workshops with choreographers from Ririe-Woodbury Dance Company.
Washburn was among the youngest feature writers writing for the former Herald Journal newspaper in Syracuse, N.Y., between 1993-99. Washburn also reported for Convex Magazine at St. Bonaventure University and the Eagle Newspapers in Chittenango, N.Y.
---