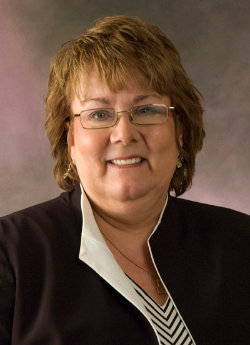 09/09/2009

Marley S. Barduhn, a SUNY Cortland alumna who has served the College for 30 years in many different capacities, most recently as associate dean of the School of Education, has been named interim assistant provost for teacher education. She began her duties on Aug. 24.
"This position was created to recognize that teacher education at SUNY Cortland is an endeavor carried out across all three schools," said Provost and Vice President for Academic Affairs Mark Prus, to whom Barduhn reports.
A search for a permanent assistant provost will commence this fall.
In the newly created position, Barduhn of Tully, N.Y., is responsible for the NCATE accreditation process and all services that support campus-wide teacher education programs. She chairs the Teacher Education Council and oversees the Field Placement Office, the Center for Educational Exchange and the Professional Development School. She also oversees the several grant-supported education programs on campus, including Access to College Education, Center for the 4th and 5th Rs, Cortland Urban Recruitment of Educators (C.U.R.E.), Liberty Partnerships, and Migrant Education Outreach Program (MEOP).
Barduhn, who received the Chancellor's Award for Excellence in Professional Service in 2006, began her long relationship with SUNY Cortland as a student. She earned a Bachelor of Science in Health Education in 1976 and a Master of Science in Education in Health Education (K-12) in 1979. She received her Ph.D. in human development, specializing in child and family studies, from Syracuse University in 1985. She holds a certificate in gerontology.
She joined the SUNY Cortland faculty in 1979 as an instructor in the Health Department and achieved the rank of associate professor in 1990. Barduhn was awarded a post-doctoral research fellowship in applied gerontology in 1988 from the Gerontological Society of America. She conducted research at the U.S. Centers for Disease Control in Atlanta, Ga. She used a 1991 University Foundation of the State of New York grant to study the role of mothers of the church in African-American churches.
She served as the Health Department's interim chair in 1995 and, the following year, was assistant to the dean of the School of Professional Studies. In 1996, Barduhn was named interim associate dean of professional studies and served until 1999, when she was named permanent associate dean of professional studies. She helped develop and implement academic policies, most notably a new suspension and dismissal policy, a transfer credit articulation and online posting. Barduhn was responsible for reviewing all in-school and College-wide curricula. Along with the associate dean of arts and sciences, she collaborated extensively with the Registrar's Office and campus community to assist in the transition to a more modern student records management system.
In 2002-03, Barduhn was a catalyst in the development of a campus-wide automated external defibrillator program, assisting in identifying key areas and developing policy for usage. She led in the development of Emergency Squad/EMT program policy and management.
As director of MEOP, with its extensive outreach services, her efforts have resulted in enhanced visibility for MEOP via statewide presentations and a steady increase in grant funding, which is currently in excess of $1 million.
As associate dean of professional studies, Barduhn played a major role in the New York State Education Department (NYSED)'s re-registry of all 71 teacher education programs in 2000 and 2001. She provided leadership in the development of both the Child Abuse Reporting (CAR) workshop and the Schools Against Violence in Education (SAVE) workshops, which are mandated by NYSED for state certification.
Barduhn served as a member of the National Council for the Accreditation of Teacher Education (NCATE) Executive Board, undertaking a rigorous national review that required three full years of campus-wide preparation, and was a member of numerous key committees.
In 2003, Barduhn helped the College develop a School of Education, a task involving extensive planning to separate the School of Professional Studies into two schools. Subsequently, she was named associate dean of the School of Education.
Barduhn served as interim director of international programs overseeing 33 study abroad programs in 13 countries and supervised the international student advisement process and study abroad orientation sessions. In 1999, she became a member of the Clark Center for International Education, traveling on behalf of the College to Belize, Venezuela and England to review existing international initiatives and foster new ones. Notably, she was co-creator of the College's Australia Student Teaching program and developed the Australia Teaching Fellows program.
She is the author of book chapters and articles on topics ranging from gerontology to extra credit, oral health surveys, blood pressure and the role of the health educator in fire/burn prevention. She has made more than 40 statewide, national and international presentations on migrant education, pediatric crisis management, critical incident work, academic advisement accountability, death education, aging and hospice issues, rural mass disasters and emergency medical services.
Barduhn has served as a consultant to several agencies, including U.S. Behavioral Health, the Federal Bureau of Investigation, the Cortland County Area Agency for Aging and the New York State Education Department.
A member of the Phi Kappa Phi national interdisciplinary honorary, she was inducted into the Sigma Phi Omega national gerontologists' honorary, the Sigma Phi Alpha national dental hygiene honorary, and elected to the New York State Emergency Medical Services Faculty.
At SUNY Cortland, she has served on more than 40 College-wide committees, including co-chairing both Undergraduate and Graduate Commencement Committees.
A Rural Metro Medical Services clinical director since 1990, she has provided counseling services for crisis intervention and helped develop its Critical Incident Stress Management Team policies, procedures and protocol. A founder and member of the Board of Directors of Caring Community Hospice of Cortland, she was a consultant to the Syracuse Fire Department's Fire Prevention Bureau, co-developing an award-winning fire prevention video series titled, "Firestation 7." Barduhn is a long-time member of the Central New York Regional Continuous Quality Improvement Committee of the Central New York Hospital Association.
---