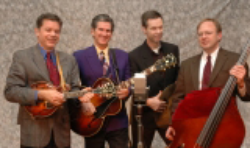 09/04/2009

Swing Café, an acoustic swing, jazz, and rockabilly band that is seen at clubs, parties and concerts around New England, will perform on Saturday, Sept. 26, at SUNY Cortland.
Presented by the College's Campus Artist and Lecture Series (CALS), the band will begin at 8 p.m. in the Corey Union Function Room.
Admission is $3 for SUNY Cortland students and $5 general admission. Children 10 and under will be admitted free. Tickets may be obtained through the Campus Activities and Corey Union Office, Corey Union Room 406, or at the door one hour prior to the performance. For more information, call (607) 753-5574.
Combining lead and harmony vocals, archtop guitar, mandolin, double bass and drums, Swing Café has a smooth stage presence. Swing Café features the vocals and guitar of Ted Powers, the mandolin and vocals of Eric Kilburn, the acoustic bass of Peter Tillotson and the drums of Steve Rose. The band's love of the material, drawn largely from pop standards of the 1930s, 1940s and 1950s, is obvious from the first downbeat. Featuring first-rate musicians and a Grammy-nominated sound engineer, Swing Cafe's fun, classy stage presence and easy repartee are sure to delight audiences of all ages.
For more information about Swing Café, visit the band's Web site at SunSwingband.com. For information about this or other CALS events, view an online brochure on the CALS Series 2009-2010 Web site at www2.cortland.edu/events/cals.
---