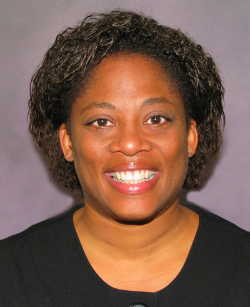 09/04/2009

Noelle Chaddock Paley was named interim director of SUNY Cortland's Multicultural Life Office, replacing Don Sawyer III. She began her duties on June 4.
Paley, who joined the College in September 2008 as a lecturer in the departments of Africana Studies and Philosophy, will continue in that capacity while a search for a permanent director is conducted in the coming year.
Reporting to C. Gregory Sharer, the vice president for student affairs, Paley is responsible for developing and implementing programs, workshops and services to enhance awareness and appreciation of diversity, multiculturalism and pluralism. She coordinates intellectual discourse among students, faculty and staff to promote the social benefits of diversity and multiculturalism. She also serves as a student advocate to ensure fair and equitable treatment and investigates ways to increase multicultural representation and enhance student graduation rates. Paley advises student organizations and supervises a professional staff member and student workers.
SUNY Cortland students honored her in the spring as an "Exemplary Woman of Color."
She is currently pursuing a doctorate in philosophy, interpretation and culture on a Clark Fellowship at SUNY Binghamton, where she previously earned a Master of Arts in Philosophy and a Bachelor of Science in Human Development. She has served as a graduate teaching assistant there.
In May 2006, SUNY Binghamton presented her with its Human Development Faculty Award for Scholar Activist as well as its Human Development Faculty Award for Outstanding Commitment to Racial and Gender Justice.
Her areas of teaching and research include mixed race identity politics and formations; Hip Hop culture; Hip Hop as a philosophic discourse; Africana women on film; prejudiced, discrimination and morality; diasporic fiction; philosophy and law; markets, ethics and law; methods of reasoning; reproductive justice; racial and gender justice; prison abolition; research methods; performance activism and voice training.
Paley grew up in Endicott, N.Y., where she currently lives with her husband, Michael. They have five children: Ben, Kendra, Matt, Josh and Morgan; and one grandchild, Liam, daughter of Ben and daughter-in-law Kim.
---