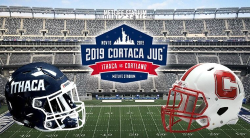 08/27/2019

SUNY Cortland students who want to be a part of sports history will be able to buy tickets to the once-in-a-lifetime Cortaca Jug 2019 game in MetLife Stadium starting on Monday, Sept. 2.
Purchasing tickets on campus is the only way to get them for $15 and avoid service fees. A limited number of round-trip bus seats will be available to purchase for an additional $20. All sales are cash only.
Dates: Monday, Sept. 2 through Friday, Sept. 6, and Monday, Sept. 9 through Friday, Sept. 13
Times: 9 to 11 a.m. and 1:30 to 4 p.m. each day
Location: Corey Union, Room 406
Price: $15 for a ticket, an additional $20 for round-trip bus transportation
Students may buy up to five game tickets. Bus tickets are limited to one per SUNY Cortland student and one for a guest.
The Cortaca Jug game will be played on Saturday, Nov. 16 at MetLife Stadium in East Rutherford, N.J. Kickoff is 1 p.m.
Ticket sale terms
All game and bus ticket sales are final. No refunds or exchanges. Cash only.
If you are looking to sit with a group of friends, please come together to purchase tickets, as all seats are assigned by sections.
Game and bus tickets are first-come, first-served while supplies last.
You must present your SUNY Cortland ID to purchase tickets.
Stadium and bus policies
The following items are prohibited and will not be allowed on the bus or in the stadium:
Alcoholic beverages
Bottles, cans or food
Apparel with profanity or offensive slogans and/or pictures
Artificial noisemakers
Umbrellas, backpacks, bags, purses and pocketbooks per MetLife policies
Banners, flags or signs attached to sticks or poles
Charcoal grills
Containers or coolers
Pets of any kind
Strollers
Tobacco products
Weapons of any kind
Charter buses also have policies to keep everyone on board safe. Please respect their rules. Stay seated while moving. No tobacco products, alcohol, drugs or weapons are allowed. Do not disturb the driver or other passengers.
Avoid conflicts and delays by reviewing the policies and regulations via the MetLife Stadium website:
---