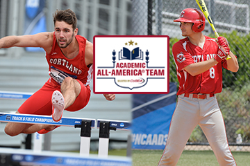 06/27/2017

Two SUNY Cortland athletes were recently named Academic All-Americans, signifying that they are among the most outstanding student athletes in their sport nationwide.
Red Dragon baseball catcher Justin Teague and track and field athlete Connor Christopherson were chosen as 2017 Capital One Academic All-Americans for Division III by the College Sports Information Directors of America (CoSIDA).
Teague, a junior early childhood and childhood education major with a grade point average of 3.65, was selected as a Baseball First Team Academic All-American. He is one of only three catchers nationally in Division III to earn Academic All-America recognition.
Christopherson, a recently graduated physical education major who earned a 3.7 GPA during his first semester of graduate work in health at Cortland, was named Division III Men's Track and Field/Cross Country Third Team Academic All-American.
The two athletes are among 32 Red Dragons selected for national Academic All-American honors by CoSIDA. Although the designation has been given since 1951, more than a third of Cortland's Academic All-Americans were named since 2011.
"At Cortland, we strive to help young people become well-rounded, goal-focused adults, and these remarkable student athletes certainly exemplify that," College President Erik Bitterbaum said. "We are proud of their accomplishments both on and off the field."
Teague this year batted .374 with seven doubles, a triple, a homer, 28 runs-batted-in and 26 runs scored in 43 games, 40 as a starter. He had 16 multiple-hit games, including six contests in which he had three hits.
A multiple-event track and field athlete, Christopherson earned All-America honors this past school year with third-place national finishes in both the heptathlon during the indoor season and the decathlon in the outdoor season at the NCAA Division III Track and Field Championships. He qualified for national competition five times and this spring was part of the winning 4x100-meter relay team and was the runner-up in both the 110-meter hurdles and the javelin throw at the SUNYAC Outdoor Championships.
Both student athletes this spring were named to their sport's Academic All-District Team for District 3, which includes all Division III schools in New York State.
They were joined in that honor by recently graduated distance runner Allison Schumann, who was named to the Academic All-District Team for women's track and field/cross country.
Schumann was an exercise science major with a 3.87 cumulative grade point average. She earned third team All-SUNYAC honors with an 11th-place finish last fall at the league's cross country championships, and she ranked 26th nationally in Division III in the 3,000-meter steeplechase during the outdoor track and field season. Schumann earned the SUNY Chancellor's Award for Student Excellence for a combination of academics and non-academic pursuits, and was a top-five finalist for the Matthew Kerner Undergraduate Research Award at the 2016 American College of Sports Medicine Mid-Atlantic Regional Conference.
---