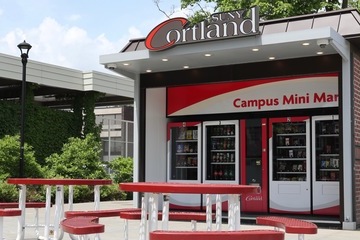 06/04/2018

SUNY Cortland faced a dilemma when Shop24 went out of business in 2016, leaving thousands of on-campus students without a convenient fix for late-night munchies. Shop24 operated the popular round-the-clock vending machine located outside Neubig Hall.
To meet the challenge, Auxiliary Services Corporation (ASC) contacted its snack machine contractor, Cortland-based Robbins Vending, for help in finding a solution to the problem. Working with Dan Davis, ASC's director of facilities, equipment and planning, Robbins developed a plan to renovate the former Shop24 and create a new Campus Mini Mart using equipment developed by Jofemar USA, a Florida-based provider of vending machines.
"Colleges from around the country have been contacting us for information on the installation as they have looked to find their own solution for 24-hour vending since Shop24 folded," said Pierre Gagnon, ASC's executive director.
The Campus Mini Mart features four dispensers linked to a central control module. Two of the dispensers are refrigerated and dispense items such as 2-liter bottles of soda, milk, full-size boxes of breakfast cereal as well as personal care items such as toothpaste, nail-clippers and razors. The machines can handle items ranging in weight from one ounce to eight pounds.
The machine is most heavily used between 10 p.m. and 3 a.m. Customers may use cash, credit cards, cellphone-based payment apps or their SUNY Cortland I.D. to pay. Receipts may be emailed electronically.
The local innovation has proved so successful that Vending Times, the primary trade magazine for the vending machine industry, featured SUNY Cortland's Campus Mini Mart in its May/June issue.
---