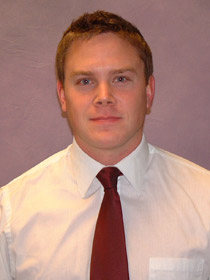 01/31/2012

Steve Axtell has been named SUNY Cortland's men's soccer interim head coach, according to director of athletics Mike Urtz. Axtell replaces Dwight Hornibrook, who is leaving Cortland after eight seasons to accept a position as major gift officer at Houghton College. Hornibrook previously coached men's soccer at Houghton from 1995-2003 before coming to Cortland.
Axtell has served as an assistant coach at Cortland the past two seasons. He also was a volunteer student assistant coach during the 2007 season.
A goalie for the Red Dragons for three seasons (2006, 2008-09), Axtell earned All-SUNYAC honors in 2008 and appeared in 39 career games with nine shutouts. He earned a bachelor's degree in kinesiology in 2008 and is currently pursuing a master's degree in exercise science.
A native of Franklin, N.Y., Axtell holds an Advanced National Diploma and an Advanced National Goalkeeping Diploma from the National Soccer Coaches Association of America (NSCAA) with Distinguished Pass and is a member of the NSCAA Goalkeeping Staff. He is also a certified strength and conditioning specialist and has received a conditioning for soccer diploma from the International Coaches Association. Axtell is the founder and director of the One+ Goalkeeper Academy in Ithaca, N.Y., with programs in Elmira and Oneonta and summer camps throughout the Northeast.
Besides assisting with both the men's and women's soccer programs at Cortland, Axtell has served as the head coach of the Central Region scholastic soccer team at the Empire State Games and the WAZA FLO soccer club in Ithaca. He has also served as the goalkeeper coach and the U16 girls' coach of Empire United of the United States Youth Development Academy and acted as director of soccer at Camp Winadu in Mass. for two years and Ithaca MicroSoccer for one year. Currently, Axtell is head coach and Director of Goalkeeping at the TCW Academy in Ithaca and an ODP Region One staff member.
---