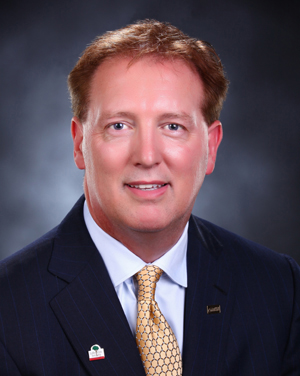 05/05/2012

Brian G. Murphy '83, the chair of the Cortland College Foundation Board of Directors and a highly successful venture capitalist in the health care field, will receive the first-ever SUNY Cortland Presidential Champion of Excellence Award during the College's Undergraduate Commencement ceremonies on Saturday, May 12.
Murphy, a vital contributor in launching and steering the College's current $25 million capital campaign, will receive a medallion from SUNY Cortland President Erik J. Bitterbaum to commemorate the honor.
The SUNY Cortland Presidential Champion of Excellence Award recognizes an individual or individuals for significant contributions to the pursuit of excellence at SUNY Cortland. It expresses the College's admiration and appreciation for extraordinary service and leadership. The award is given at the sole discretion of SUNY Cortland's president. Potential nominees for the award may be brought to the president's attention by any variety of groups or individuals.
"It's no coincidence that Brian will become the first person to receive this award," President Bitterbaum said. "When it comes to establishing a vision and supporting meaningful student experiences, his leadership has been invaluable. Quite simply, he embodies the champion spirit of SUNY Cortland."
Murphy's behind-the-scenes work related to launching the "Educating Champions: the Campaign for Cortland" was critical, organizers noted. The campaign, which was announced publically in September, is built around SUNY Cortland's four institutional priorities: cultivating academic excellence; providing transformational learning experiences; promoting physical, emotional and community well being; and maximizing College resources to create a foundation for sustainable operation and growth.
"When we first started developing the campaign, the first consultant we engaged suggested to us that if we could raise $16 million, it would be not only extremely successful but very optimistic," said Murphy, who knew Cortland could do better. "Now, it looks like we're going to exceed $25 million. To me, far and away, that speaks volumes of our leadership. It speaks volumes of our alumni and it speaks volumes of the people serving on our Foundation Board.
"To have been a part of that is easily the most gratifying accomplishment in my time as chair."
Despite serving as board chair during one of the toughest economic times since the Great Depression, Murphy helped guide a transformative era in terms of fundraising for SUNY Cortland. In the 2009-10 fiscal year, for instance, SUNY Cortland shattered its giving records when alumni and friends contributed $6.2 million to the College. That same year, Murphy, along with immediate past Foundation Board chair Victor Rumore '84 and the President's Council, pledged to match new and increased College employee gifts with up to $203,000 over five years.
By the end of the 2010-11 fiscal year, the endowment of the Cortland College Foundation stood at an all-time high of $21.6 million.
Murphy, who will finish his term as board chair in August, credited two sources for the unprecedented success during his tenure.
"Number one, certainly, it's the character of Cortland alumni, their natural compassion and their giving nature," said the former health education major. "And it's also about the maturation of the role of private capital alongside of our public institutions."
Private dollars invested in public institutions are vital, he said.
"It's the future of institutions like ours," he said. "The really good public institutions are going to be public-private partnerships and it's so important to get that message out and get those fundamentals in place."
Professionally, Murphy claims more than 25 years of experience related to private equity, corporate management and development, focused primarily in health care services. He is a founding general partner of NewSpring Capital, a private equity family of funds, and he is responsible for NewSpring Health Capital, the health care investing vehicle of the firm. NewSpring has approximatiely $1 billion under management with four offices in the mid-Atlantic region.
Besides serving on the Cortland College Foundation Board of Directors since 2005 and as its chair since 2008, Murphy also is a member of the College's Lofty Elm Society and a charter patron of the Lynne Parks '68 SUNY Cortland Alumni House. In September, he and his wife, Patricia Rhubottom, were presented with a Philanthropy Medal from President Bitterbaum for giving more than $100,000 to SUNY Cortland.
The couple, living in Berwyn, Pa., has established two scholarships at the College, one for each of their parents. The Thomas and Martha Rhubottom Scholarship helps an individual who has served in the United States Armed Forces. It was created with Rhubottom's father, a career military man, in mind. The George and Phyllis Murphy Scholarship benefits a student with a disability who also pursues a career in education. Murphy's father is mostly deaf and his mother is a music educator.
"It was great for us to be able to create scholarships that intersected both of our lives," he said.
Although his term as board chair ends in August, Murphy will continue to serve as an active board member.
"I've been lucky to strike up so many wonderful personal and professional relationships while serving on the board," he said.
---