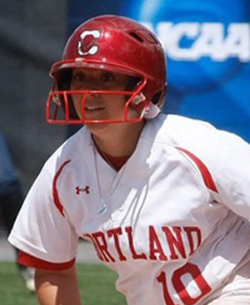 12/16/2013

SUNY Cortland's Lucia Meola '13 has been chosen as the State University of New York Athletic Conference's (SUNYAC) 2012-13 Dr. Dolores Bogard Award winner, as voted upon by the league's athletic directors. The honor is presented by the SUNYAC annually to a junior or senior female athlete with the best combination of academic and athletic ability.
The recipient has to have earned above a 3.3 grade point average and have received at least one varsity letter. Bogard was an administrator and coach at SUNY Cortland for more than 20 years and served as SUNYAC President during the 1987-88 school year.
Meola, from Liverpool, N.Y., played softball at Cortland for four seasons and graduated magna cum laude this past May with a bachelor's degree in physical education. She is currently enrolled in Cortland's sport management graduate program and is an assistant softball coach for the Red Dragons.
Meola started all 52 games at second base last spring and batted a team-high .440 with 16 doubles, three homers, 33 RBI, 42 runs scored and 31 walks. She also recorded a .969 fielding percentage with just seven errors in 228 total chances. Meola set a school single-season record with her 31 walks, her 70 hits are fourth-best in school history and her 16 doubles are tied for fourth.
In her four-year career with the Red Dragons, Meola played in 196 games, 194 as a starter. She batted .385 with 46 doubles, six triples, eight homers, 121 RBI, 155 runs scored and 82 walks. Meola is Cortland's career leader in walks, ranks second in hits (230), doubles and runs, is tied for second in games played and ranks fourth in RBI.
Meola was a three-time All-American and All-Northeast Region selection and a four-time first-team All-SUNYAC honoree. She was named both ECAC Upstate New York and SUNYAC Player of the Year and was a Capital One Academic All-District award winner as a senior. She helped lead the Red Dragons to three SUNYAC titles and four NCAA tournament appearances. Cortland advanced to the NCAA Div. III World Series twice in that span, placing second nationally in 2013 and fourth in 2011.
"Lucia is one of the best hitters in Cortland softball history," said head softball coach Julie Lenhart. "She is a fierce competitor and a difference maker. She is a committed and dedicated student-athlete who isn't satisfied with status quo and does whatever it takes to be the best."
Meola is Cortland's sixth SUNYAC Women's Scholar-Athlete award winner since the award was first given out in 1983-84 and the first since gymnast Lindsey Marranca shared the honor in the 2004-05 school year.
---