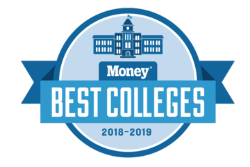 08/22/2018

For a second consecutive year, SUNY Cortland was ranked in the top 5 percent of all four-year colleges in the United States as a "Best College for Your Money."
Money magazine analyzed graduation rates, tuition, average student debt and career earnings — as well as 22 other factors — to measure three primary criteria: quality of education, affordability and outcomes.
SUNY Cortland was ranked No. 117 in the nation out of 2,400 colleges and universities, highest among SUNY's comprehensive colleges. Affordable tuition, low student debt and successful early career earnings give SUNY Cortland students a strong return on their investment.
"This recognition is gratifying because it confirms SUNY Cortland's historic dedication to providing our students with a high-quality, transformative education at an affordable price," SUNY Cortland President Erik J. Bitterbaum said. "We are a campus of engaged and ambitious students who use their Cortland education to succeed in teaching, athletics, health care, business, communications, and a wide variety of other fields."
The College has earned similar recognition from numerous national publications and organizations over the last year:
CollegeChoice.net named SUNY Cortland's Kinesiology Department the No. 10 program in the nation in 2017.
The College's School of Education was lauded by BestValueSchools.com as one of the top 25 best values for teaching degrees in the U.S.
To build this year's ranking, Money trimmed the nation's approximately 2,400 colleges to a list of 727 top-value institutions by looking at four criteria:
Have at least 500 students.
Have sufficient, reliable data to be analyzed.
Have a stable budget and not be in financial distress.
Have a graduation rate at or above the median for its institutional category (public, private, historically black college or university).
Colleges were then ranked according to 26 points of data that were sorted into three categories. The quality of education category considered graduation rate, instructor quality and each school's financial stability. Affordability was calculated based on the net price of a degree, debt default risk and the cost of education for low-income students. Outcomes were measured by looking at graduate earnings at multiple points post-graduation.
---