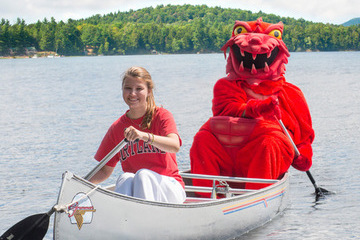 09/12/2017

Do you love exploring the outdoors? Do you like competing for prizes?
SUNY Cortland students, faculty, staff and alumni can do both by participating in the Outdoor Nation Campus Challenge. From Sept. 18 to Oct. 15, students, faculty, and staff are encouraged to compete for the title of national outdoor champion against 92 colleges from across the country.
Getting involved in the Campus Challenge is easy. Download the Outdoor Nation app on the Apple App Store or Google Play, join the SUNY Cortland team and log all outdoor activities from Sept. 18 to Oct. 15. Every activity logged on the app earns points for the College's team and up to five activities may be logged daily.
Campus Challenge participants compete for the SUNY Cortland team against other colleges but they will also vie against each other as individuals. SUNY Cortland's Outdoor Pursuits program will reward the College's most active participants with prizes such as hammocks, hats, chairs and water bottles in addition to the prizes awarded by Outdoor Nation.
"Each week there are different sponsors and we are giving away prizes right here at SUNY Cortland," said Jason Harcum, assistant director of recreational sports for Outdoor Pursuits.
Hiking, paddling, bicycling, and camping are some of the many eligible activities. Outdoor Pursuits offers regular group outings in Central New York, the Finger Lakes and the Adirondacks. Campus Challenge bonus points are awarded to participants who join Outdoor Pursuits trips.
"It's a fun way to get out of your comfort zone and a cool way to get outside," said Mary McNally '16, a graduate assistant for Outdoor Pursuits.
Outdoor Pursuits' equipment rental center provides gear to members of the campus community for a nominal fee.
"Outdoor Pursuits is a great resource. We have bikes, hiking poles, canoes, tents and much more," said Harcum.
The Campus Challenge began in 2014. Outdoor Pursuits participated for the first time this year in hopes of getting students, faculty, staff and alumni active in outdoor activities.
"It's a fun opportunity to get people outside and try new things," Harcum said.
To track the College's progress during the Campus Challenge, follow Outdoor Pursuits on Instagram or Facebook. For more information, visit Outdoor Pursuits in the Student Life Center, Room 2101, or contact Harcum at 607-753-5810.
Prepared by Communications Office intern McKenzie Henry
---