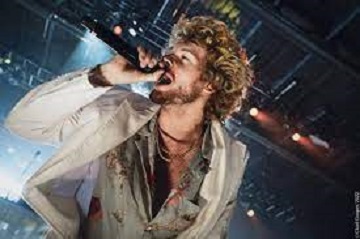 04/20/2023

Platinum-certified rapper Yung Gravy will headline SUNY Cortland's Spring Fling concert on Saturday, April 29 in the Park Center Alumni Arena. Also performing will be D.J. Lady Verse and country singer Kristen Merlin.
Doors open at 6 p.m. for the 7 to 11 p.m. show. Tickets remain on sale in person on select dates. Follow the SUNY Cortland Student Activities Board on Instagram for full details.
Payment is cash only — $20 for Cortland students, $30 general admission and $50 at the door.
The concert caps a week of Spring Fling activities organized by the Student Activities Board, including the annual Spring Fling Carnival, which will be held on the lawn of Moffett Center from 11 a.m. to 3 p.m. on the day of the concert. The carnival also marks the final opportunity to purchase tickets at the Cortland student price.
A full list of events is included below.
Yung Gravy blends modern rap with vintage themes from music of the 1950s through the 1980s to create energetic and amusing songs. He first gained recognition in 2016 with "Mr. Clean," which went platinum. In 2022, he released his first Billboard Hot 100-charting hit, "Betty (Get Money)."
His song "Gravy Train" became the locker room victory anthem of the Tampa Bay Lightning as they moved toward their eventual 2022 Stanley Cup title and was inscribed inside the teams official Stanley Cup rings.
Spring Fling 2023 Events Schedule
Friday, April 21
Spring Fling T-shirt Giveaway
Corey Union Information Desk
4 to 6 p.m.
Saturday, April 22
Spring Fling Color Run
Begins at Dowd Fine Arts Center
11 a.m. to 2 p.m.
Sunday, April 23
Tie-Dye Spring Fling T-shirts
Corey Union Patio (Rain location: Corey Union, first floor)
3 to 5 p.m.
Monday, April 24
Spring Fling Bingo Night
Sperry Center, Room 105
7 to 9 p.m.
Tuesday, April 25
Spring Fling Comedy Night
Corey Union Exhibition Lounge
8 to 10 p.m.
Wednesday, April 26
Spring Fling Groovy DIY Night
Corey Union Function Room
6 to 8 p.m.
Friday, April 28
Spring Fling Glow Foam Party
Quad between Hendrick and Hayes halls (Rain location: Corey Union Function Room)
8 to 10 p.m.
Saturday, April 29
Spring Fling Carnival
Moffett Center lawn
11 a.m. to 3 p.m.
Spring Fling Concert: Yung Gravy
Park Center Alumni Arena
7 p.m.
---