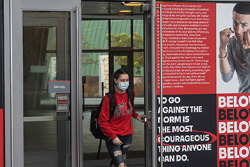 03/09/2021

Jamie Piperato '12 and Kathleen Altamirano '20 are among 25 campus community members and alumni who have shared their images and their individual messages of diversity in a poster series displayed around the SUNY Cortland campus and online since last fall.
In late October, the finished portraits were installed in two buildings, the Student Life Center and Moffett Center. Online, campus members were encouraged to view all the posters by visiting the university's website Cortland.edu/beloved. Since December, the images have appeared in rotation on the student sign-in page of myRedDragon and other locations on the university's website.
Many of the personal pictures will look familiar. The Beloved Community Diversity Narratives Project comprises a series of posters that visually share the essential life stories of students, faculty and staff members and alumni with the campus and the community.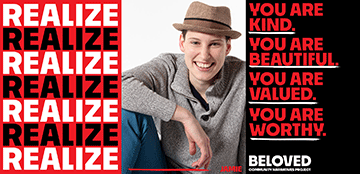 "I am extremely proud and honored to have participated in the Beloved Community Narratives Project," said Piperato, founder and CEO of the consulting company JPHigherEd.
The original presentation reflecting on the finished project took place on Feb. 15. In two upcoming virtual panel presentations, on Monday, March 15 and Wednesday, April 16, participants plan to discuss themes such as race and immigration, gender and sexuality, and mental health and disability, with an audience of students, faculty and staff, and alumni.
The two remaining hour-long Webex presentations are free and open to members of the campus community and alumni.
Organizers want to use the event to highlight the project by giving the campus and alumni the opportunity to talk with the students, faculty, staff and alumni whose narratives and photos were featured.
The second event starts at 6 p.m. on Monday, March 15. Panelists will include in addition to Altamirano and Piperato: Jessica Condon '20, CK Conway '14 and senior Jade Molly Antoine. Register in advance to attend, and a link will be sent.
The third event starts at 4 p.m. on Wednesday, April 16. Panelists will include senior Raquel Berman, Michael Medina '20, senior Nakeesta Langton and Lauren Christiansen, Career Services internship and student employment coordinator. Register in advance to attend, and a link will be sent.
In fall 2019, members of the campus community were invited to participate in the project. In March 2020, visiting artist Adam Mastoon of Adam Mastoon Transmedia came to campus with a photography team to begin the process of creating the project.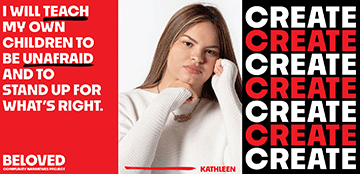 "It was a very different experience because I never had a solo photoshoot," observed Altamirano, an early childhood childhood/childhood education major who was a student teacher in Manhattan at the New York City Public School 51 when she sat for her photo and wrote her own accompanying biographical sketch.
"Adam was very kind and fun, which made the experience very exciting," said Altamirano, who currently is a fulltime teaching assistant for toddlers and preschoolers at an early learning center for Vivvi at Manhattan. "Yes, it was a privilege to be part of the Beloved Community Narratives Project."
In 2019, Altamirano became Cortland's first recipient of the Norman R. McConney, Jr. Award for EOP Student Excellence, given to 42 students from SUNY campuses across the state in memory of one of the architects of the Educational Opportunity Program and a champion for addressing inequities faced by economically disadvantaged and underrepresented populations. The award recognizes students who exhibit academic success, perseverance and leadership qualities.
Now these two graduates look forward to sharing their essential life stories.
"Telling my story was something close to me," Altamirano said. "I talked about where I'm from and my people. I believe it is important to be proud of where you're from and to never be ashamed of it."
"My hope is that students, alumni, faculty and staff follow the lead of these beautiful individuals by leading with love and courage," Piperato said.
The project's educational subcommittee, which organized the event, includes AnnaMaria Cirrincione, director of the university's Multicultural Life and Diversity Office; Evan Faulkenbury, an associate professor of history; and Kaitlyn Flannery, assistant professor of psychology, to organize the presentations.
For more information on the panel series, contact the Multicultural Life and Diversity Office at 607-753-2336.
Poster images courtesy of Adam Mastoon Transmedia.
---