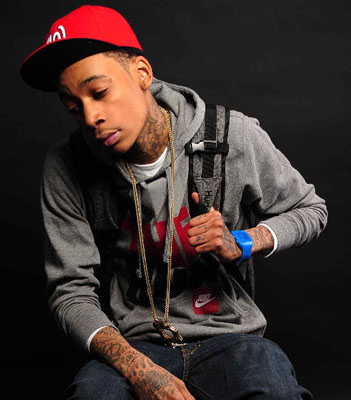 04/10/2012

Interested in free tickets to attend Wiz Khalifa's headlining Spring Fling concert at SUNY Cortland?
You read that right. We said FREE.
The College's social media outlets will offer two pairs of tickets to the popular rapper's April 28 concert through online trivia contests during the week of April 15.
One pair of tickets will be up for grabs on the College's main SUNY Cortland Facebook page. Another will be available through its main Twitter account (@SUNY_Cortland). Only SUNY Cortland students will be eligible to win.
In order to participate in the contests, students must "like" SUNY Cortland's Facebook page and follow its Twitter account. More details and clues will be posted on both social media outlets leading up to the contest. If you don't pay attention, you could lose out.
With less than three weeks until the Grammy-nominated rapper takes the stage at SUNY Cortland's Alumni Arena, fewer than 200 tickets remain. The few remaining tickets cost $30 and can be purchased from 11 a.m. to 3 p.m., Monday through Friday, in Corey Union, Room 406. Only cash will be accepted.
More than 3,300 concert tickets have been sold, which is a new record for the College. On Monday, the SUNY Cortland Student Activities Board announced that popular YouTube personality Dom Mazzetti will visit the Spring Fling carnival that takes place earlier in the day on Saturday, April 28.
Wiz Khalifa joins a long list of big-name artists to play SUNY Cortland's Spring Fling. The list includes the Black Eyed Peas, O.A.R. and the Fray. Kid Cudi, last year's headliner, played to a sold-out arena.
A Pittsburgh-raised rapper, Khalifa has three albums to his credit and his own label, Taylor Gang Records, under parent company Atlantic Records. "Black and Yellow," a song named after the colors associated with professional sports teams in Pittsburgh such as Steelers football and Pirates baseball, established Khalifa's mainstream success.
The track earned him a nomination for Best Rap Song at the 2011 Grammy Awards and spawned several remixes and parodies by other recording artists.
"Rolling Papers," Khalifa's debut album with Atlantic, came out in March and hit No. 2 on the Billboard 200 chart. It features other mainstream hits such as "Roll Up" and "No Sleep."
---