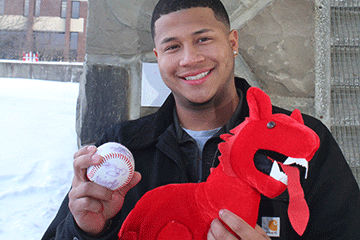 01/25/2022

Even as Jayson Rivera navigated the disadvantages of growing up with a single parent in public housing in a tough Manhattan neighborhood, he was helping others overcome similar barriers to success.
"I was a high schooler working with grade schoolers and middle schoolers with the Opportunity Program Network," recalled Rivera, now a SUNY Cortland senior adapted physical education major and recipient of a SUNY-wide 2022 Norman R. McConney, Jr. Award for EOP Student Excellence.
"Being a mentor, trying to guide them in the right path, it's basically what made me want to be a teacher," Rivera said.
Rivera remembers April 17, 2018 as the day he was accepted at SUNY Cortland as an Educational Opportunity Program (EOP) student.
"I was so excited. I didn't pick any other school," Rivera recalled.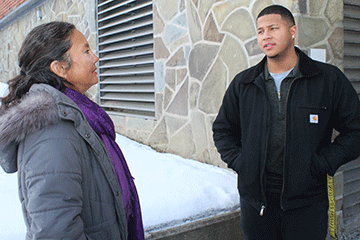 Cortland's EOP program helped him jump all obstacles, providing him not only with a place among its first-year class but all the access and support he required to reach his full academic and personal potential. The program gave him an intensive summer of academic preparation before his first-year student experience, financial aid, ongoing academic counseling, tutoring and the emotional support from his many EOP classmates.
He's the third SUNY Cortland student to earn the SUNY-wide award since its creation in 2019 and only around 40 are bestowed annually. The McConney Award is named in honor of a late architect of the Educational Opportunity Program and a champion for addressing inequities faced by economically disadvantaged and underrepresented populations.
"The award celebrates EOP students who have overcome significant obstacles in life to achieve educational and personal excellence," said SUNY Cortland EOP director Lewis Rosengarten. "Jayson has proven his excellence here at Cortland including during this unprecedented time."
Rivera will be honored with other awardees this spring in Albany, N.Y., during a ceremony that will include New York State legislators and other dignitaries.
"I'm honored to receive this," Rivera said. "I know sometimes I put in a lot of work in the community at SUNY Cortland and overall. And other people see it, but sometimes I don't see it in myself and give myself credit. This award really made me stop and think and take in all the things I've done."
"From the moment he got here in the summer of 2018, he's been very focused," said Cortland EOP Academic Counselor Judy Stoddard M '10, who helped Rivera stay on track for college success.
"He took all the information in he needed," she said. "He wanted to do well academically."
As he finishes his last semester this spring by completing his student teaching at Corcoran High School in Syracuse, N.Y., Rivera can look back with satisfaction on what he has accomplished:
Rivera was accepted into Cortland's prestigious Urban Recruitment of Educators (C.U.R.E.) scholarship program, which offers financial support and a curriculum tailored to created highly qualified teachers for the unique challenge of serving students in city schools around New York state.
He was inducted into the National Honor Society for the Educational Opportunity Program, Chi Alpha Epsilon, which requires at least a 3.0 overall GPA for two semesters in a row.
Outside class, Rivera participates in scholarly, community and social activities of the Greek organization for Latinx men, La Unita de Latina Lambda Upsilon Lambda.
"When I joined the fraternity, I had one of my best semesters where my GPA went from being a 2.8 to a 3.27," Rivera said. "I have ended up this semester with a 3.17 GPA."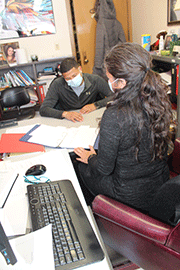 "Jayson is very determined and kind of no-nonsense as far as what he wanted to accomplish academically," Stoddard added. "Also he's just a good person, with integrity, focused on his goals."
"I grew up in the projects," Rivera said. "You see shootouts, drug dealings, people being stabbed in front of me, a lot of violence. I really wanted to get out of that environment."
Two alumni who were his high school coaches, Chris Lora '09 and the late Emmanuel Frias '08, placed academics at Cortland in his path after a knee injury ended the baseball standout's athletic ambition.
"Chris grew up in somewhat the same environment as me, in Washington Heights," Rivera said of SUNY Cortland's most recent M.O.V.E. event keynote speaker.
"He showed me that there is a way out. He really motivated me to come to college and just to do better for myself overall. It really impacted me a lot."
After he graduates, Rivera would like to land a job to teach in Syracuse for a few years, save a little rent money, then continue teaching back in New York City.
"I've always loved working with kids," Rivera said. "It gives me an opportunity to grow as well. I could be always learning."
---