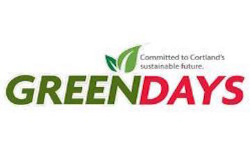 08/30/2016

SUNY Cortland employees can now go green while earning some green, thanks to a new service that lets them scrap their paper paystubs in favor of accessing the same information online.
NYS Payroll Online! offers College staff and faculty an opportunity to help save trees, reduce carbon emissions and win prizes by opting not to receive paper paystubs/direct deposit advices.
The service, implemented by the New York State Office State Comptroller (OSC), will not reduce only the amount of paper generated by the College's biweekly payroll, but also offer additional employee services aimed at improving convenience and efficiency. Employees can:
View and print their pay statement
Change their tax withholdings
View and print current and prior-year W-2 income statements
Update their email address
And, all employees who opt out by Friday, Sept. 30, will have their names entered into a raffle for prizes that include Fitbits and an assortment of gift cards.
To access the new service:
Simply sign into myRedDragon
Go to the Faculty/Staff tab
Select HR Services/TAS in the Important Links channel
Write down or otherwise note your NYS ID number (N#) located in the top right corner of the SUNY HR Home Screen – this will be needed to verify your identity in NYS Payroll Online
Click on the "NYS Payroll Online" icon, located in Self Service box
Complete and submit the initial verification process with the last 4 digits of your SSN and your NYS Employee ID number (N# from the HR Home screen or on your paystub).
Click "FINISH" to continue to the NYS Payroll Online Home Page
To opt out of receiving a paper statement:
Select the "Update Pay Statement" option and follow the instructions to opt out.
If your session expires when you are on the NYS Payroll Online Home Page, you will be directed to the NYS log-in. You will NOT be able to get back in using this log-in. You must always access this service through MyRedDragon and the HR Services/TAS link
For additional information, and for a description of the full suite of services offered through NYS Payroll Online, click here. If you have any questions, please call Payroll at 607-753-2405.
---