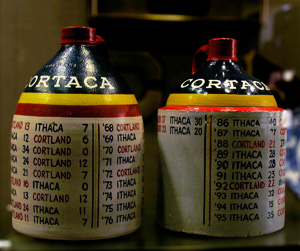 10/22/2013

SUNY Cortland students and employees looking to witness a fourth straight Cortaca Jug win in person will have the opportunity to purchase tickets beginning Monday, Nov. 4.
The College's football team travels to Ithaca's Butterfield Stadium Saturday, Nov. 16, for the annual rivalry game. Kickoff is slated for noon.
Tickets, which cost $8, go on sale to SUNY Cortland students, faculty and staff members Monday, Nov. 4, in Corey Union, Room 406, from 5 to 10 p.m. or until they sell out. They will remain on sale in the same location from 5 to 10 p.m. Tuesday, Nov. 5.
During the first two days of ticket sales, students and employees may purchase one ticket each. A valid College ID is required and only cash will be accepted.
If tickets remain after the first two days of sales to the campus community, they will go on sale to the general public from 8:30 a.m. to 4 p.m. starting Wednesday, Nov. 6, in Corey Union, Room 406. Tickets will be limited to two per person and remain $8 each, with only cash accepted.
All tickets are considered general admission and seating will be determined on a first-come, first-served basis on the day of the game.
With a limited number of tickets available, no one is guaranteed a ticket. Tickets will be required to enter the game and none will be sold at the gate on game day. A College ID alone will not allow entry.
All tailgating must conclude by 5 p.m. and several items will be prohibited in Butterfield Stadium. Those include: alcoholic beverages and food; clothing with profanity or offensive pictures; bags, purses or backpacks of any shape or size; artificial noisemakers; banners, flags or signs attached to sticks or poles; bottles, cans, containers or coolers; pets of any kind; strollers; tobacco products; umbrellas; charcoal grills; or weapons of any kind.
For more information on ticket sales, contact Campus Activities and Corey Union at 607-753-2321 or join the "Cortaca Football Ticket Distribution" event page on Facebook.
---