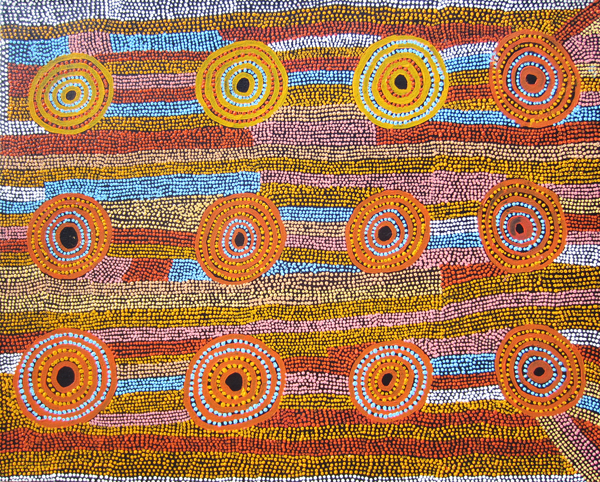 10/19/2011

John Rennie Short, an internationally recognized geographer, will discuss his collection of contemporary Aboriginal paintings in Dowd Gallery at SUNY Cortland on Thursday, Oct. 27.
The lecture highlights the "Contemporary Aboriginal Art: Mapping Land, Representing Country" exhibition that will run in Dowd Gallery from Monday, Oct. 24, to Friday, Dec. 16.
Short, a professor in the Public Policy Department at the University of Maryland, Baltimore County, will offer the lecture "The Incredible Rise of the Desert Art Movement" at 4:45 p.m. An opening reception begins at 4 p.m. Short's lecture, the opening reception and the gallery exhibition are free and open to the public.
In his talk, Short will discuss the development of the indigenous contemporary art world in the Central and Western Desert of Australia.
"There has been very active acquisition of contemporary Aboriginal painting by North American collectors for almost 30 years, but exhibitions of this art are only recently making true inroads onto the schedules of museums and galleries in the U.S.," said Bryan Thomas, Dowd Gallery's interim director. "We are very grateful to Professor Short for sharing his collection with us."
Kathryn Kramer, an associate professor in the Art and Art History Department at SUNY Cortland, will serve as the exhibition's curator.
"John Rennie Short brings his profoundly interdisciplinary scholarship to bear on the field of Aboriginal art, which has resulted in a milestone exhibition," Kramer said.
The Dowd Gallery's aboriginal exhibition will feature a total of 32 works: 27 paintings, four aerial maps of Australia and one sculpture.
A full-color, illustrated catalogue featuring an essay by Short and an interview with him will accompany the exhibition.
Widely published in the areas of urbanism, globalization, environmentalism and cartography, Short is currently working on a book about Aboriginal Australian art titled Representing Country: Evolving National Imaginaries and Indigenous Art in Alice Springs. A chapter, "Representing Country in the Creative Postcolonial City," will appear in an upcoming issue of the Annals of the Association of American Geographers.
Support for the exhibition and its programming is provided by the Roberta Gere Doering '46 Art Acquisition Fund, the Cortland College Foundation, the Campus Artist and Lecture Series, the Haines Fund, the Art Exhibition Association, the James M. Clark Center for International Education, the International Programs Office, the Rozanne M. Brooks Museum and the Provost and Vice President for Academic Affairs' Office.
The gallery is open from 10 a.m. to 4 p.m. Monday through Friday or by appointment.
For more information, contact the gallery at (607) 753-4216.
---