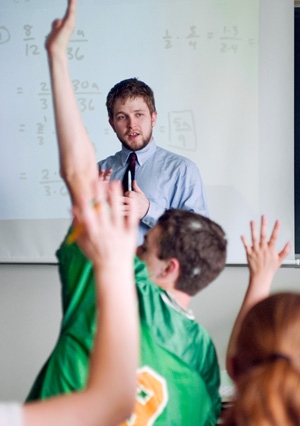 09/25/2012

The New York State Education Department recently awarded SUNY Cortland a $429,197 grant to engage future high school science and mathematics teachers in a full-year teacher residency program at Binghamton High School, a high-needs, urban school district.
The Undergraduate Clinically Rich Teacher Preparation Pilot Program, led by Angela Pagano, associate professor of biological sciences, and Mary Gfeller, associate professor of mathematics, aims to shift the center of teacher education by increasing the role of school partners in the preparation of effective science and mathematics teachers, particularly for high-needs districts.
The proposed program, offered in collaboration with Binghamton High School, will enable approximately 12 SUNY Cortland students to spend one full academic year, from 2013-14, immersed in clinically rich study and application of teaching practice.
Motivated by research that called for the creation of transformational teacher preparation programs, Pagano and Gfeller worked with Andrea Lachance, dean of the College's School of Education, to develop a model that would best prepare teacher candidates for the realities of working in high-needs schools, lead to greater teacher retention and positively impact student learning.
"SUNY Cortland has always been a leader in teacher education and this grant allows us to remain at the forefront of innovation," Pagano said. "By embedding candidates within the school culture, we are providing them with the most authentic preparation experience possible."
"For their senior year, the students will mostly be on-site at Binghamton High School," Lachance added. "What they will really have is an apprenticeship."
This unique partnership comes at a time when secondary school administrators have heightened concerns about student and teacher performance and working teachers are generally more reluctant to devote time to supervise student teachers in their classrooms. The grant will support mentor teachers by providing professional development opportunities and stipends for their work with teacher candidates.
A SUNY Cortland undergraduate who aspires to become a secondary schoolteacher gives a lesson in a school classroom.

The grant also forges a new collaboration between SUNY Cortland's schools of Arts and Sciences and Education.
"Through this grant, faculty from the two schools will be able to work together on blending coursework for teacher candidates from multiple perspectives," Gfeller said.
Faculty from the School of Education in Literacy, Foundations and Social Advocacy, and the Cortland Urban Recruitment of Educators (C.U.R.E.) program will join Pagano and Gfeller in maximizing the residency experience from their respective expertise through this innovative program.
The grant will fund full tuition and fees as well as provide stipends and travel allowances to support approximately 12 science and mathematics teacher candidates during the program's cycle. That cycle will run from Nov. 1, 2012 through Aug. 31, 2014.
Upon successful completion of the program and graduation from the College, candidates will receive initial New York state certification to teach science or mathematics in grades 7-12.
---