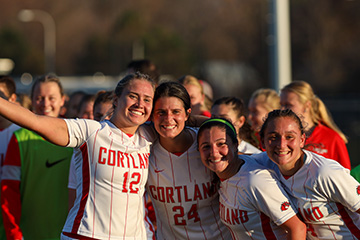 11/22/2022

For the first time in SUNY Cortland history, all five fall team sports have earned a spot in their respective NCAA tournaments.
It's an unprecedented feat that saw the field hockey, football, volleyball and men's and women's soccer teams all take to the NCAA Division III national stage to showcase the talent of SUNY Cortland's student-athletes and staff.
"While we have been graced with long-standing success in many of our sports seasons, to have five of our fall teams qualify for the NCAA's in the same season for the first time in school history is something to get excited about," said Director of Athletics Mike Urtz '94 M '00. "It's truly impressive, and shows how blessed we are to have such a fine staff of coaches here at Cortland right now. We hope for more great stories like this in the winter and spring seasons as well."
Each team has completed its tournament play:
Field Hockey:
The field hockey team (14-4) traveled to Cambridge, Massachusetts, to take on MIT in the first round of the NCAA Division IIII tournament on Wednesday, Nov 9. The game marks the team's second straight trip to the national tourney and 30th overall, winning national titles in 1993, 1994 and 2001 and taking second place in 1997.
Motivated by head coach Tiffany Hubbard, this Red Dragon squad gained momentum through the season, winning eight of its last nine games on its way to a State University of New York Athletic Conference (SUNYAC) championship.
Football:
The 2022 Cortaca Jug contest at Yankee Stadium was a loss for the football squad, but the ninth-ranked Red Dragons (9-0) were already on their way to the NCAA tournament after an undefeated 6-0 Empire 8 season.
The team's last win set a program record with 19 consecutive regular-season victories.
Following their traditional showdown with the Ithaca College Bombers on Saturday, Nov. 12, the Red Dragons opened the national Division III tournament the following week, Nov. 19.
Volleyball:
After claiming the SUNYAC crown for the second straight year, the women's volleyball team (21-5) headed to an eight-team regional at Juanita College in Huntingdon, Pennsylvania. The Red Dragons faced off against Rowan University on Thursday, Nov. 10, to kick off their NCAA Division III tournament.
It is the 26th time that the team has competed in the national tournament and continues its strong play under fourth-year head coach Erin Glickert.
Men's Soccer:
The Red Dragon men (12-5-2) took to the field in a four-team regional hosted by Franklin and Marshall College on Saturday, Nov. 12 and Sunday, Nov. 13. They made their 24th NCAA tournament appearance and sixth since 2014.
The team, under head coach Steve Axtell, won the SUNYAC regular-season championship.
Women's Soccer:
Under the leadership of 19th-year head coach Heidi Axtell, the Red Dragons (13-1-4) headed to the NCAA playoffs for the second time in three seasons, making their 14th NCAA Division III tournament appearance and 19th overall national tournament showing. They hosted a four-team regional on Saturday, Nov. 12 and Sunday, Nov. 13 at Holloway Field.
To follow how each of our Red Dragon teams did on its NCAA journey, go to SUNY Cortland's athletics website.
---