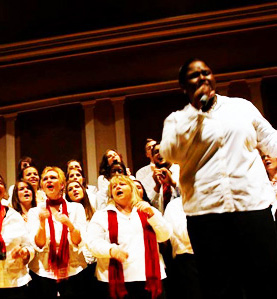 12/05/2012

A sample of gospel music straight from the heart of the nation's capital will sound through the Corey Union Function Room during the 27th SUNY Cortland African American Gospel Music Festival on Sunday, Nov. 4.
This year's festival, featuring six other choirs from 4 to 6 p.m. in the Function Room, will include as a newcomer the Gospel Music Workshop of America (GMWA) Syracuse Chapter.
Founded by the late renowned gospel artist, Rev. James Cleveland, the GMWA has served as a platform where many of today's great gospel artists pursued their fledgling aspirations. The Syracuse chapter's mission and goals include enhancing and developing music talent and other arts in Syracuse.
Joan Hillsman
The ensemble is directed by Joan Hillsman, the retired supervising director of music for the Washington, D.C. public schools and emeritus professor of music and director of the Bowie State Gospel Choir. Hillsman moved to Syracuse in 2009, after having influenced D.C. music for more than 45 years. In Syracuse, she has served on the Mayors Transitional Team for the Arts in Syracuse and is the music consultant and presenter for Syracuse University's "Say Yes To Education" program.
She is the author of several books, most recently, Gospel Music: An African American Artform (McGraw Hill Publishers). More information about Hillsman can be found online at www.joanhillsman.com.
Each choir is asked to offer both a choir and an a cappella selection, and all seven choirs will raise their voices as one in celebration for the popular finale.
The event is open to the public. Tickets, with proceeds to support the Gospel Choir Scholarship and Programming Funds, are $3 for students and $5 for general admission. Children under 12 are admitted free.
SUNY Cortland Student Government Association (SGA) President Leigh Marie Weber and Vice President Erin Durgin, both choir members, will extend a welcome on behalf of the College. Vicki Johnson, SUNY Cortland Protestant chaplain, will deliver the invocation. A reception in the Function Room will immediately follow the festival.
The guest choirs include the Le Moyne College Voices of Power of Syracuse, directed by Burnell Reid; the Binghamton University Gospel Choir, directed by Shanice Hodge and Jessica Davis; the SUNY Oswego Gospel Choir, with Robert Short as director; and Syracuse University's Black Celestial Choral Ensemble, led by Byron F. Canada.
Also featured will be the two host choirs, SUNY Cortland Gospel Choir, and Cortland A Cappella. Directing Cortland's gospel choir will be Robert Brown, a SUNY Cortland adjunct instructor in Africana Studies. Brown also teaches music at Blodgett Elementary School in Syracuse, N.Y., and serves as music director of the New Life Community Church in Syracuse.
Cortland A Cappella is led by Noelle Chaddock Paley, who directs the Multicultural Life and Diversity Office at SUNY Cortland and teaches in the Philosophy and Africana Studies departments.
Choir musicians are Andy Rudy, keyboard; Benjamin Terry, percussion; and Reginald Seigler, bass guitar; all of Syracuse. On alto saxophone is Jamie Yaman of Cortland.
Gospel Choir officers for the current academic school year are: Deston Hudson, president, a junior sociology major from Westchester, N.Y.; Jocelyn Jones, vice president, a sophomore adolescence education: French and Spanish major from Auburn, N.Y.; Erin Kaminska, secretary, a senior communication studies major from Skaneateles, N.Y.; and Courtney Hyndman, treasurer, a junior early childhood education major from Putnam Valley, N.Y. Other officers are public relations co-directors Loren Arrington, a junior communication studies major from Rensselaer, N.Y., and Michelle Fraser, a senior speech and hearing science major from Scotia, N.Y.; Melody Byron, tour manager, a senior communication studies major from Bay Shore, N.Y.; and Hannah Greene, SGA representative, a junior history major from Buffalo, N.Y.
Gospel Choir and Cortland A Cappella are a part of the College's Africana Studies Department. The Choir is supported by the Center for Gender and Intercultural Studies, the Alumni Affairs Office, the Cortland College Foundation, the Division of Student Affairs, the offices of the President and the Provost and Vice President for Academic Affairs, and the student activity fee.
For more information about performances, tickets and special assistance, contact Deston Hudson; Robert Brown; Deborah Dintino; or Seth Asumah.
---